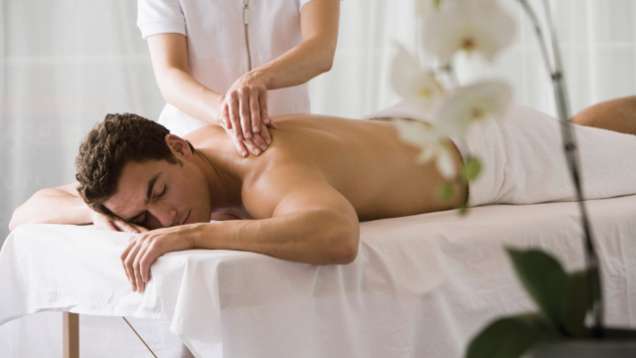 Gentlemen's hot towel facial
This ultimate anti-ageing facial helps soothe and restore sun damaged, rugged, razor-burned skin. First, steamed aromatic towels cleanse and purify the complexion. Next, the face is deeply cleansed and exfoliated, then revived with a tailored moisturizing mask. Finally, a shoulder, neck and head massage, incorporating gently healing pressure-point work and essential oils, promotes tension release and deep relaxation by enhancing blood circulation and oxygen flow.

Steamed towel massage
Long used as a homeopathic remedy for strains and sprains, arnica helps to reduce pain and soothe tired muscles. During this customized massage, hot towels are steamed with arnica and applied to areas of tension – perfect after a long day of golf, or to melt away muscle tension.

Specialized sports massage
Enjoy a sports massage completely customized for your sporting discipline. Developed by our dedicated massage therapists for our Sports Club members, this massage combines focused techniques and an organic muscle-relieving balm to relieve sore, aching muscles, increase range of motion and reduce tension.
Old-fashioned cowboy soak
Relax in true Texan style while enjoying a local Shiner Bock beer. This bath uses pure aromatherapy oils to relieve muscle aches and pains.

Executive pedicure
Treat your feet after a round of golf or a long day at work. Feet are soaked, scrubbed and massaged, and nails are clipped, filed and buffed.

Men's cut
Looking for a sharp, clean cut before your meeting or convention? Our precision stylists can trim, clipper and razor your hair to perfection.
Men's grey blending
Want more pepper and less salt? Try our natural blending service to restore colour with health and shine.
Note: Prices and treatments are subject to change without notice.