F rom steaks to light, health-conscious fare, our five restaurants and lounges in Dallas have something for every palate.
Innovative Cocktails
Four Seasons Sommelier James Tidwell's signature cocktails include the Cruiser, a piña colada with a Myer's Rum twist, and the 19th Hole Mojito, made with Pearl Plum Vodka and mint leaves.
Café on the Green
The service, steaks and private dining rooms make this Forbes Four-Star Las Colinas restaurant a major draw for tourists and locals alike.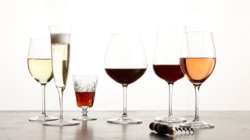 Taste by Four Seasons
Get inside tips and recipes straight from the culinary experts. See what our own Master Sommelier uncorked at Taste by Four Seasons!
Terrace Lounge
This casual lounge, located off the main lobby, is the perfect spot to meet friends or colleagues in Dallas for a drink or bite.
Racquets
After your swim or tennis match, Racquets is the perfect place for a lunch of nutritious drinks and hearty sandwiches, soups and snacks.