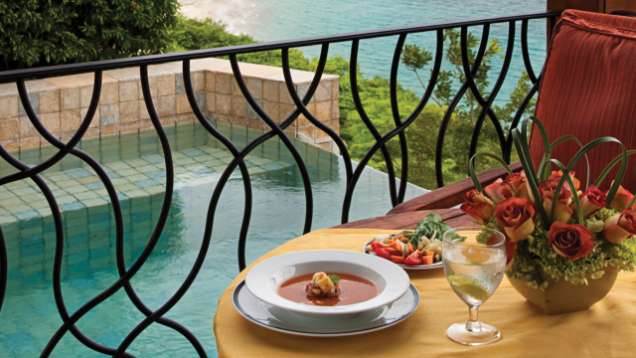 Specialties
A variety of vegetarian dishes and an inspired selection of nutritionally balanced, healthier fare are standard offerings on all menus. A children's menu is available.
Packed to Go!
Many of our guests need a meal packed to travel, whether it be for a tour, a day trip or their return home. Please contact In-Room Dining to discuss items that can be conveniently packed to travel. Your order will be placed in a Four Seasons travel box with all you need to enjoy your meal on the go.
Beach Dining
Four Seasons staff can orchestrate a private three-course dinner for couples, families or small groups who also want to savour the exotic landscape of the Resort's golden shores. Indulge in an unforgettable dining experience while watching a breathtaking sunset on Playa Virador or relaxing alongside the serene bay waters of Playa Blanca. Our culinary experts have prepared four authentic international menus to choose from, and our servers cater to your every whim. Pre-order cakes for honeymoons, birthdays or anniversaries.
Family beach dinners
Both of the beaches make wonderful spots for a special family dinner. Whether you are celebrating a birthday or just getting everyone together on your vacation, it is guaranteed to be a memorable experience. Your meal is pre-planned with our chef based on any of our Resort menus or your own ideas. Our In-Room Dining team makes sure you have everything you need. We recommend starting your dinner a little early to enjoy the Costa Rican sunset.

Romantic beach dinners
Enjoy your own piece of paradise over a wonderful meal with a loved one. The In-Room Dining team goes out of its way to make this an unforgettable experience. Start your meal early to enjoy the sunset with a dinner catered to your tastes. Our chef can make recommendations or prepare your favourite dishes. A romantic beach dinner can be the start or the end of a perfect vacation.


Note: Please plan in advance so we may accommodate all your requests and reserve the beach for you. Contact In-Room Dining to discuss your special event.
Four Seasons In-Room Dining is a fine-dining experience within the comfort and convenience of your guest room or suite. Choose from an extensive menu, day or night, that is ideal for time-zone-hopping travellers, impromptu meetings or quiet, private dining.
For the ultimate in romantic dining, the In-Room Dining staff can arrange a private dinner on the beach.
Hours
Breakfast
6:00 am – 11:30 am
All-day dining
11:30 am – 6:00 pm
Dinner
6:00 pm – 10:00 pm
Late-night snacks
10:00 pm – 6:00 am
In-Room Dining is available 24 hours a day.