From the exquisite dishes of our elegant dinner-only restaurants to the exotic cocktails at our airy lobby bar to poolside sandwiches, Four Seasons Resort Costa Rica at Papagayo aims to please every palate.
Every Meal Is an Experience
Specialising in Latin and Italian cuisine, the Resort uses fresh local ingredients to create an innovative menu that is a one-of-a-kind dining experience.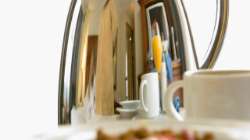 In-Room Dining
Choose from an extensive menu, day or night – ideal for time-zone-hopping travellers, impromptu meetings or quiet, private dining.