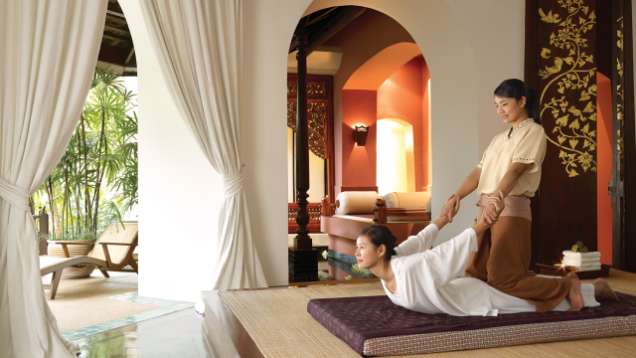 Traditional Thai
This ancient massage technique (also known as yoga massage) has been handed down through the centuries. Based on the application of pressure along the energy lines of the body, together with the stretching of the muscles, Thai massage stimulates energy flow and eases muscles, replacing tension and stress with a feeling of energy and peace.
Orient blend
A pressure-point massage based on the Oriental theories of energy meridians, this massage is effective in relieving tension, aches and pains. The combination of soothing aromatic oils and gentle kneading and stretching will leave the body feeling totally relaxed and refreshed.
Aromatic
Using Thai herbal oils that release their therapeutic properties into the skin, this healing treatment gently relieves aches through kneading and circular hand movements, leaving the body totally relaxed.
Herbal oil
A restorative massage to purify and balance both body and mind. Using healing rituals originating from India, the combination of blended warm herbal oil and specific massage techniques is designed to balance the nervous system and restore vital energy flow.
Reflex
A specialized hand and foot massage to relieve stress and tension and to improve blood circulation. Each of the body's energy meridians is identified in the pressure points of the feet. Using cooling wild mint massage lotion, the massage releases pain and blocked energy, leaving you feeling totally relaxed.
Restorative Back Massage
Kundalini, the female goddess of awareness believed to take the form of a coiled snake, is the dormant energy in the base of the spine. When awakened, this energy travels up the spine to the third eye, increasing energy and spiritual enlightenment. This new back massage uses a blend of neroli, cardamom, jasmine and patchouli essential oils, combined with ancient massage techniques, chakra healing and Himalayan salt and herb poultices, to deeply sooth, relax and balance the whole of the body's nervous system.

Champi Head Message
Indulge in a deep tension relief head massage. Marma point massage on the head face and neck balances body energy, palm pressures and gentle hair pulling stimulates nervous system. Result is clearer thinking and improved memory.
Chi nei tsang
This internal organ massage works directly over the navel and surrounding abdominal area, where stress, tension and negative emotions accumulate. If this area is congested, the whole energy of the body is blocked, slowly weakening the internal organs and decreasing energy and vitality. Chi nei tsang massage brings comfort to the abdomen and vital energy to the internal organs. Best taken as a series of three to five treatments for optimal results.
Reiki
This ancient healing art has its origins in the Himalayas. Working with life force energy, reiki aims to address the causes of disease and imbalance, and restore wholeness by activating the body's natural healing ability.
Note: Prices and treatments are subject to change without notice. Prices are subject to 10% service charge and 7% VAT.