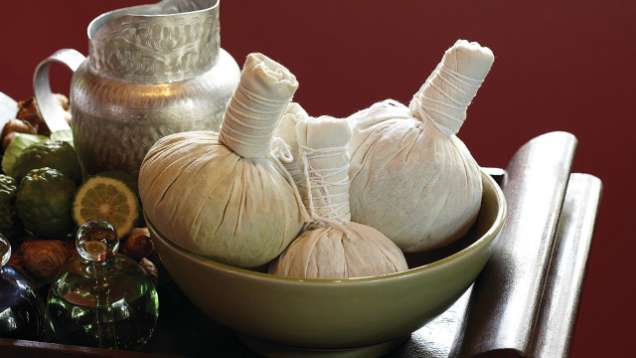 Body wraps
Blends of earth clay, essential oils and herbs are applied to the skin to draw out impurities. Body wraps include a massage for the face, neck and scalp.
Aloe and lavender body wrap
Hydrating and luxurious aloe vera gel and a toning lavender mist are applied to the body, which is then covered with banana leaves to cool and soothe the skin. An excellent treatment for skin repair and cellular rejuvenation, concluding with the application of lavender body lotion.
Natural Thai herb body wrap
An exquisite blend of lemongrass, bai nart and prai is combined with tropical fruits to improve and stimulate circulation, and soften and smooth the skin. An application of hydrating prai body moisturizer completes this indulgent treatment.
Bio-Energy Body Wrap
A new energizing and detoxifying body scrub, intensified by the addition of a mud wrap, draws deeper toxins from the cells. Powerful and revitalizing for both the skin and the lymphatic system, this wrap can promote profound healing in the energy body.

Bio-Rhythm Treatment
The perfect jetlag recovery treatment, the new Bio-Rhythm Treatment aims to rebalance the body's natural bio-rhythms and deeply relax the nervous system. A mineral-rich Energy Scrub and Bio-energy Mud Wrap help to charge and restore the body's bio-magnetic energy field through the release of negative ions. A Kundalini Back Massage using warm poultices and chakra-balancing techniques follows to relax and balance the nervous system. The ritual concludes with a gentle rose oil marma point facial massage to stimulate the flow of energy.

Skin scrubs
Combinations of crushed rice, blended herbs and seeds have been used for centuries to gently exfoliate and revitalize the skin, creating a natural glow. All scrubs conclude with a massage of the neck and back.
Rice and spice scrub
In a tradition that has been used by rice farmers for generations, this sensuous combination of herbs and spices, blended by hand in our Spa kitchen, gently exfoliates and revitalizes the skin. Cloves and ginger warm the muscles and increase blood circulation, creating a natural glow.
Body Scrub for Energizing and Detoxifying
Using the ionizing properties of Himalayan salt crystals, this new body scrub is the ideal treatment for cellulite, stress and exhaustion. On a physical level, it stimulates circulation and toxin elimination; on a subtle level, it cleanses and strengthens the bio-energy fields, leaving mind, body and spirit uplifted. Ideal in combination with any of the ila massages.


Body Scrub for a Blissful Experience
Using the healing properties of Himalayan salt crystals, this new body scrub is ideal for times when special pampering is needed. Nourishing both bodily and emotional wellbeing, it restores and relaxes the nervous system, leaving the skin glowing and the body infused with a sense of enhanced wellbeing. Recommended for both a daily boost and for deeper health issues.

Note: Prices and treatments are subject to change without notice. Prices are subject to 10% service charge and 7% VAT.