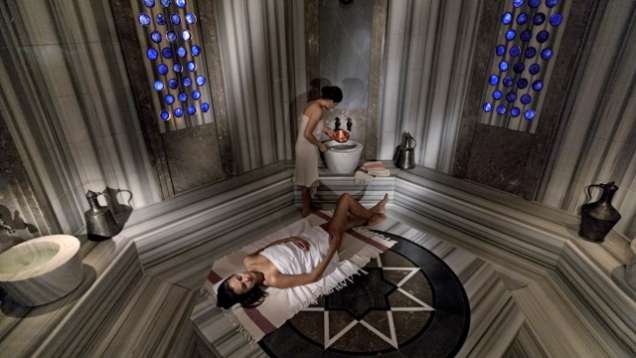 A hammam is a Turkish bath – the site of a ritual that has evolved over thousands of years. At the Spa, you can enjoy our private hammam on your own or share the experience with friends, family or your partner. Surrounded by heated marble, you will enjoy a scrub before relaxing and cleansing your body in a foam bath. Our guests are encouraged to arrive at the Spa 30 minutes prior to their appointment to prepare for the hammam experience in our sauna and steam room.
Traditional
A traditional Turkish hammam treatment in the luxurious setting of the Four Seasons Istanbul at the Bosphorus. This experience will leave you refreshed and renewed, as it has done since ancient times.
Kese (scrub) 30 Minutes - 100 EUR
45 Minutes - 150 EUR
30 - 45 Minutes
EUR 100 - 150
Call 90 (212) 381 41 60
Traditional ultra luxury
Enhance the traditional Turkish hammam experience with a pampering foot ritual and a nourishing hair treatment and body mask. This experience will leave your skin feeling renewed and your body fully pampered.
60 Minutes - 185 EUR
60 Minutes
EUR 185
Call 90 (212) 381 41 60
Citrus Hammam by Natura Bissé
A renewed Turkish bath treatment enriched with the C + C mask of Natura Bissé, this hammam tones the skin and boost collagen production with traditional delights.

Using intense antioxidant capacity and 100 percent pure vitamin C, Natura Bissé Citrus body mask re-balances skin experiencing moisture loss. Ideally tailored for complexions that need pre-summer moisture, this special treatment refines skin by removing toxins via traditional hammam treatment, nourishes the skin with Natura Bissé Citrus cure, and moisturizes it to regain elasticity.
60 Minutes - 200 EUR
60 Minutes
EUR 200
Call 90 (212) 381 41 60
Private
Enjoy a private moment in the unique ambiance of our traditionally designed hammam. Begin with traditional ultra-luxurious hammam ritual followed by our special body mask and energising massage.
120 Minutes - 250 EUR
120 Minutes
EUR 250
Call 90 (212) 381 41 60
Lavish moments
This lavish moment will be customised to your exclusive tastes, creating an moment of harmony and bliss that will treat your body and soul.
3 Hours - 350 EUR
3

Hours

EUR 350

Call 90 (212) 381 41 60
Note: Prices and treatments are subject to change without notice.