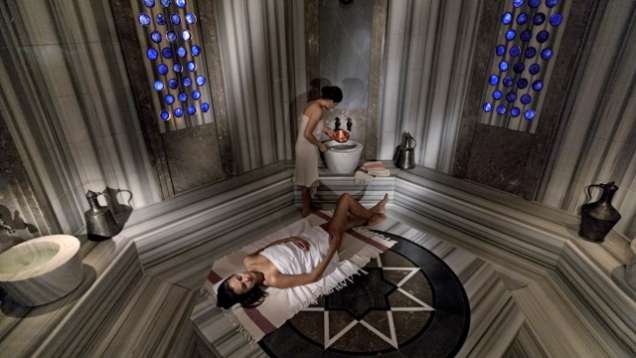 A hammam is a Turkish bath – the site of a ritual that has evolved over thousands of years. At The SPA in Istanbul at Four Seasons Hotel at the Bosphorus, you can enjoy our private hammam on your own or share the experience with friends, family or your partner. Surrounded by heated marble, you will enjoy a scrub before relaxing and cleansing your body in a foam bath. Our guests are encouraged to arrive at The SPA 30 minutes prior to their appointment to prepare for the hammam experience in our sauna and steam room.
Traditional Turkish Hammam
Experience the traditional Turkish hammam enhanced by the luxurious setting of Four Seasons Istanbul at the Bosphorus. Choose the 30-minute invigorating kese (scrub), the 45-minute kese and foam massage, or the pampered 60-minute Turkish bath with foam massage, nourishing hair treatment and body mask, and this moment will leave you refreshed and renewed, as it has done for people since ancient times.
Kese (scrub) 30 Minutes - 125 EUR
Kese (scrub) and foam massage 45 Minutes - 155 EUR
Kese (scrub), foam massage and body mask 60 Minutes - 185 EUR
Please note: You can also combine the 60-minute Traditional Turkish Hammam with a massage and/or facial treatment as a Spa package. Please see Spa Journeys.
30 - 60 Minutes
EUR 125 - 185
Call 90 (212) 381 41 60
Note: Treatments are subject to change without notice.