A chic city retreat on Istanbul's glorious seafront, this converted Ottoman palace is surrounded by indigo waters and mountaintops. Visit the place where East meets West and the past meets whatever's coming next. Stimulating days and vibrant nights await at Four Seasons Hotel Istanbul at the Bosphorus.
May we help you plan your stay with us?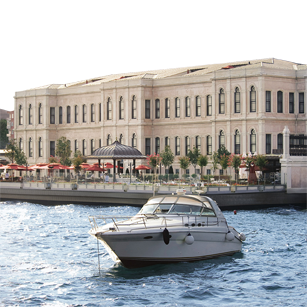 About
Four Seasons Hotel Istanbul at the Bosphorus
Local Time:
•
Local Temperature:
23°C / 73°F
Çırağan Cad. No. 28,

34349

Istanbul, Beşiktaş, Turkey
Tel.

90 (212) 381 40 00

Fax.

90 (212) 381 40 10
Along the Bosphorus, in one of Istanbul's trendiest and most naturally beautiful neighbourhoods, find a former 19th-century Ottoman palace transformed into a hotel sanctuary of luxury and comfort. Experience a seldom-seen side of Istanbul, with legendary Four Seasons service there to ensure you enjoy every moment of your luxury hotel stay in Istanbul, Turkey.
Learn More About Our Istanbul Accommodations

Room Rate
Best available room rate. Our most flexible option.
Fitness facilities
Pool
Complimentary fresh fruit throughout the day
Business services
Multilingual Concierge
Spa
Babysitting services
Children's amenities
The banks of the Bosphorus give rise to a coastal enclave of shimmering natural beauty, centuries-old architecture, and a vibrant mosaic of cafés, clubs, restaurants, galleries and shopping.
Read More
Further Reading
Where to Shop in Istanbul
From the Grand Bazaar to the spice market to neighbourhoods full of intriguing boutiques, Turkey's largest city has much to offer the serious shopper.
10 Reasons to Visit Istanbul
If you've explored the Hagia Sophia and had your fill of the Grand Bazaar, delve into Istanbul's lesser-known sites and get to know the city like a local.
Discover
Our Istanbul at the Bosphorus