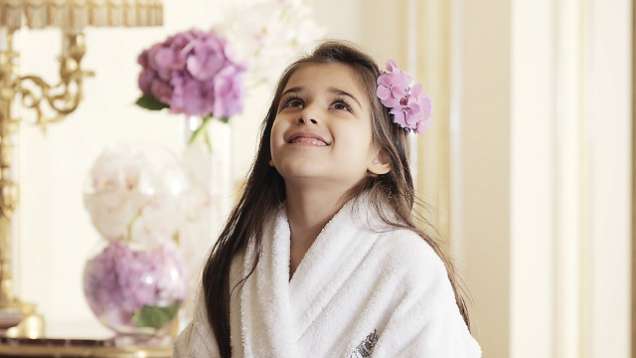 beverly hills star treatments
princess
Get fairy tale-ready with a princess facial that includes a facial cleanse and massage. Your beautiful face will be glowing after we apply a glistening powder, and your lips will be shining after an application of a candy-flavoured lip gloss. To complete your magical look, receive a special princess prize at the end of your treatment.
the superhero
A green-based aromatherapy spray will help your powerful superhero muscles morph back to relaxation during a neck, shoulder and hand massage. At the end of your treatment, receive a super prize to fit your super power.
the rock star
Bring your iPod and rock out to your favourite tunes while enjoying a scalp, neck and shoulder massage. At the end of your treatment, you'll receive a rocking prize.
the pop star
Get stage-ready with a pampering hand and foot treatment. Your hands will be glammed up with an eye-popping nail polish, and your feet will be all set for dancing after a relaxing foot massage. As the star of the Spa, you'll take home a gift to help you remember your glamorous Hollywood experience.
the superstar
Get paparazzi-ready with a kids' manicure and pedicure that includes an invigorating hand and foot massage. Superstars will take home a star trophy to remember their red carpet experience.
larry and pete get pampered in the spa
The Beverly Wilshire, Beverly Hills (A Four Seasons Hotel) is pleased to present our new children's program inspired by the book Larry Gets Lost in Los Angeles, by Michael Mullin and John Skewes.
When children under the age of eight check in with their families, every child will be offered a Larry plush toy of their very own. Upon entering your guest room, a personalized chocolate amenity will be waiting for your children, along with more information on Larry. Colouring books and themed children's menus will be available at both THE Blvd and the pool.
larry gets pampered in the spa
Get your "paws" pampered after a long day of activities in Los Angeles with a vitamin C hand and foot exfoliation followed by a relaxing hand and foot massage. After your treatment, receive a present from Larry!

pete finds relaxation in the spa
Take off your blue hat after searching for Larry throughout Los Angeles and relax with a neck, shoulder and scalp aromatherapy massage. After your treatment, receive a present from Pete!