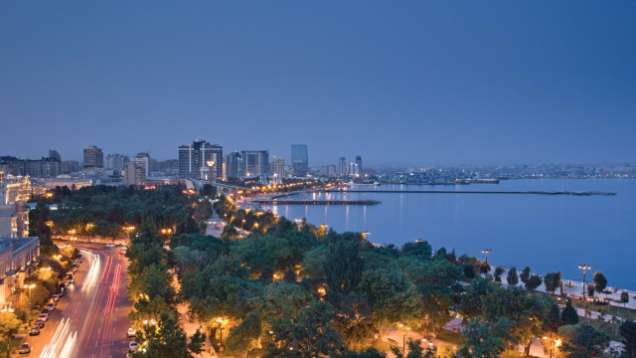 Known as the world's oldest oil-producing region, Baku experienced a major boom at the beginning of the 1900s, but the oil industry declined under Soviet rule. Since the country regained its freedom in 1991, the Azeris have been tapping their key commodity to reclaim their history and build a bold new future.
As Baku becomes a pivotal centre for the international oil industry, the government is spending billions on futuristic real estate developments and cultural attractions. Today, this cosmopolitan city of two million feels dynamic and youthful. In the 12th-century Old City – a UNESCO World Heritage site – shops and restaurants are thriving.
Steps from the Old City, Four Seasons Hotel Baku boasts the capital's most high-profile location: directly facing the Caspian Sea waterfront promenade on Neftchilar Avenue, Baku's most prestigious boulevard, at the corner of Azneft Square, the most prominent intersection. European designer shopping lines the promenade to the north, and to the west, a public park leads to the Azerbaijan State Philharmonic Hall.
With the State Oil Company (SOCAR) immediately to the south and key corporate addresses for the oil and banking industries nearby, Four Seasons Hotel Baku provides Azerbaijan's most strategic accommodations for international business.

Quick Reference
Time Zone
UTC/GMT +4 hours

Languages Spoken
While Azerbaijani is the official language in Baku, English, Russian and Turkish are widely spoken.

Electrical System
Local voltage is 220 volts AC. Adapters are available through the Concierge.
Time and Distance to City Centre
The Hotel is located in the city centre.

Shopping hours
Monday to Sunday 10:00 am to 8:00 pm
Park Bulvar Shopping Mall 10:00 am to 10:00 pm

Working hours
Monday to Friday 9:00 am to 6:00 pm
Public Holidays
| | |
| --- | --- |
| New Year | January 1 – 2, 2012 |
| International Women's Day | March 8, 2012 |
| Victory Day | May 9, 2012 |
| Republic Day | May 28, 2012 |
| Spring Festival Novruz | March 19 – 25, 2012 |
| Day of National Salvation | June 15, 2012 |
| Armed Forces Day | June 26, 2012 |
| National Independence Day | October 18, 2012 |
| State Flag Day | November 9, 2012 |
| Constitution Day | November 12, 2012 |
| National Revival Day | November 17, 2012 |
| Azerbaijanis Solidarity Day | December 31, 2012 |
Seasonal highlights
March
International Mugam Festival: The Mugam Festival takes place in Baku's Chamber and Pipe Organ Concert Hall. It provides the perfect opportunity to hear a uniquely Azerbaijani genre of music known as Mugam.

Novruz: In Azerbaijan, the traditional Zoroastrian new year celebration, Novruz, plays a role similar to Christmas in other parts of the world. Children receive gifts and there's a general cleaning.
May

The 2012 Eurovision Song Contest: The 57th annual Eurovision Song Contest will be held in Baku, Azerbaijan, following Azerbaijan's win in 2011. Twenty-one countries have announced their participation.



June

International Caspian Oil and Gas Exhibition

International Transport, Transit and Logistics Exhibition
September

International Healthcare Exhibition

Beauty Azerbaijan – Beauty and Aesthetic Medicine Exihbition: The first international exhibition of its kind held in Azerbaijan.

Gas Infrastructure World Caspian Expo



October

Aqua-therm Baku: An international trade fair for heating, sanitation, climate control and building technologies.