Using open kitchen layouts, the freshest ingredients and innovative restaurant menus ranging from contemporary Thai to northern Italian and authentic Levant cuisine, there's something for everyone at the imaginative Four Seasons Hotel Amman restaurants.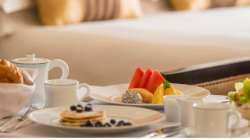 In-Room Dining
Pick from our extensive menu from the comfort and convenience of your room 24 hours a day.
Note: During Ramadan, Asia and Vivace will be closed. After Ramadan, they will reopen with their normal schedules.