Chuck Kazmer, Executive Chef
Chuck Kazmer, Executive Chef at Four Seasons Hotel Amman, oversees all of the Hotel's food and beverage service, including In-Room Dining. Chuck's long-standing journey with Four Seasons Hotels and Resorts began in 1991 when he was an apprentice in Austin, Texas. Since then, he has worked as a sous chef at Four Seasons Hotel Boston, a senior banquet chef at Four Seasons Resort and Club Dallas at Las Colinas, executive sous chef at Four Seasons Hotel Houston, and most recently, executive sous chef at the former Four Seasons property in Chicago.
"With more than twenty years of professional cooking, I can confidently say that cooking food is my passion and the love of my life," says Chuck. A highly creative and detail-oriented chef, he creates local farm-to-table cuisine for banqueting events, In-Room Dining and restaurant service by combining traditional and modern techniques. His specialty is creating out-of-the-box menus for weddings, and catering, corporate and private events.
Using open kitchen layouts, the freshest ingredients and innovative restaurant menus, there's something for everyone at the imaginative Four Seasons Hotel Amman restaurants and lounges.
Coming Soon: A New Food and Beverage Experience
Four Seasons Hotel Amman is making some exciting changes to enhance our dining experience. The Hotel has already begun transforming Vivace and Asia Restaurants as well as The Square Bar into a completely new food and beverage experience that will become a one-of-a-kind, entertaining place to wine and dine. Stay tuned for Amman's most exciting bar and restaurant set to launch in late 2016. In the meantime, we invite you to enjoy:
Olea restaurant for Levant cuisine and our unique Friday Brunch
The Foyer Lounge for light meals and international favourites
FIVE Grill & Lounge during the summer months
Our new Garden Terrace for continental sandwiches and salads
Our rooftop outdoor swimming pool, beginning May 1, 2016
Your favorite dishes from In-Room Dining, in the comfort of your own room or suite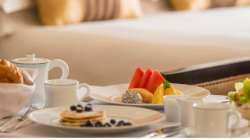 In-Room Dining
Pick from our extensive menu from the comfort and convenience of your room 24 hours a day.