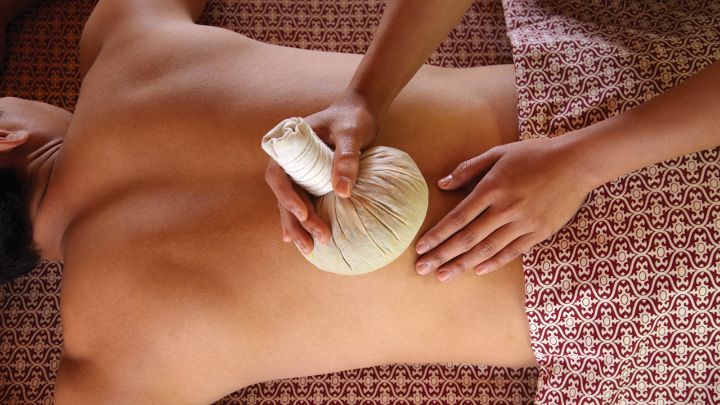 Thai Spa Immersion
In the Spa at Four Seasons Resort Chiang Mai, this three-hour rejuvenating signature experience takes you on a journey through traditional Thai spa therapies. A herbal poultice using fresh kaffir lime leaves, camphor, prai and ginger stimulates blood circulation and prepares the body for a relaxing yet rejuvenating experience, and is followed by our signature Samunprai. Unchanged since the 18th century when organic poultices filled with aromatic herbs were administered to soldiers returning home with muscle aches and bruises, the Samunprai treatment uses these poultices to open the pores, releasing a deep medicinal heat to the muscles to relieve tension and revitalize the spirit. Focusing on the Oriental theories of energy meridians, Thai stretching techniques and a pressure point massage follow to treat muscle tension and pain. To complete the journey, a nourishing Lanna facial cleanses and hydrates the skin with natural herbal essences.

ila Vitality Ritual
The ideal treatment for stress and exhaustion, the ila Vitality Ritual uses all-natural ila products to stimulate circulation and eliminates toxins. Combining a Himalayan Salt Scrub, Fire Chakra Massage and Inner Glow Facial, the ritual cleanses and strengthens the body's bio-energy fields and renews vitality, leaving the mind, body and spirit feeling renewed, uplifted and rejuvenated.

ila Restorative Ritual
Many factors can disturb the natural flow of the body's energy, including travelling, stress and modern lifestyle, causing an imbalance in the body. This powerful ritual aims to heal and balance the nervous system using ancient massage techniques to awaken the Kundalini, the dormant energy at the base of the spine, realigning the body's rhythm and restoring a balanced state. The treatment is completed with an Inner Glow Facial that works on marma points to remove blockages and achieve a beautiful glowing skin.

Couple's Spa Escape
Unwind and reconnect as you enjoy treatments together in the Spa's couples' suite or in the privacy of your own guest room. A relaxing body massage using kneading, long strokes and acupressure points melts away tension and stress. A scalp massage then follows with the application of virgin coconut oil and a deep conditioning mask to nourish the hair and scalp, followed by a hand and foot massage to release blocked energy and improve blood circulation. A Glowing Radiance Soak infused with rose and tuberose essential oils completes the ritual, leaving you both with a feeling of complete relaxation and a sense of serenity.
Note: Prices and treatments are subject to change without notice. Prices are subject to 10% service charge and 7% VAT.