Traditional Khantoke Dinner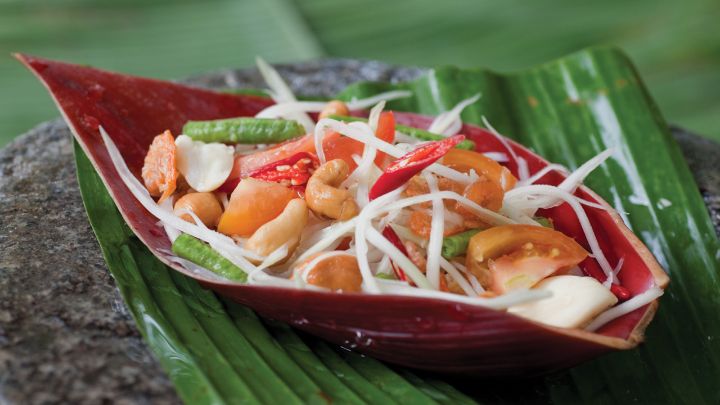 The Cooking School at Four Seasons Resort Chiang Mai has long been renowned for introducing the secrets of Thai cuisine to Resort guests keen to pick up culinary tips to dazzle friends and family back home. And now, the Cooking School is offering guests another way to experience the unique cuisine of northern Thailand with its new khantoke dinners.
Originally a ceremony for highly honoured guests, khantoke dining is designed to be a sociable affair, with dishes served family-style. Guests are seated on cushions around low rattan tables, and eat, drink and relax as they enjoy performances of traditional Thai dance, such as the forn phang (candle) dance, and the forn jorng (umbrella) dance.
Created by the Cooking School's Thai Chef Instructor Nuttaluck Roswan, the khantoke dinner menus include a succession of different courses, ranging from spicy salads to fragrant soups, rich curries to marinated fish wrapped in banana leaves, and fresh seasonal vegetable dishes. Sample typical northern Thai items such as Gai Tom Kamin (free-range chicken soup with tumeric), Goong Sauce Makham (prawns with tamarind sauce), Abb Pla Mor (grilled curry paste-marinated ruby fish wrapped in banana leaves), and finish with the irresistible homemade lemongrass ice cream, I Tim Takrai.

The new khantoke dinner menus are now available at the Cooking School at Four Seasons Resort Chiang Mai, with prices starting at THB 2,900 per person (subject to government tax and service charge).