Breakfast in the Rice Fields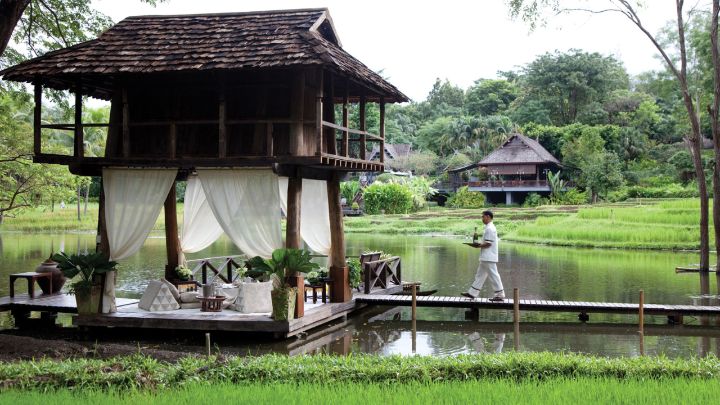 Imagine starting the day surrounded by the beauty of lush, green rice fields, relaxing in the cool morning breeze, a personal butler arriving with a glass of chilled sparkling wine. With the new Land of a Million Rice Fields Breakfast at Four Seasons Resort Chiang Mai, guests have the opportunity to do just that, with breakfast at the Resort's Rice Barn, a private dining venue reserved just for two.
The Rice Barn at Four Seasons Resort Chiang Mai is inspired by traditional barns used for storing rice after the harvest in the ancient Lanna Kingdom of northern Thailand, otherwise known as the "Land of a Million Rice Fields." These barns function as the family storehouse, but they are also holy places, where the Thai rice spirit Mae Phosop resides until it is time for the next sowing or harvest. The open-sided barns let the cool morning air flow through and open up onto beautiful views of the Resort's working rice paddies, lily ponds and the Mae Rim mountains beyond. At breakfast time, the Resort's Rice Barn is decorated in traditional Lanna style with a low table and cushions for comfortable lounging, and live traditional Thai music playing softly in the background.
Resort Guests are invited to lean back against the cushions, their eyes soothed by the myriad shades of green that surround them, and be content with the knowledge that surely there can be few better ways to start a day than this.
The Land of a Million Rice Fields Breakfast is a truly exclusive experience, reserved for only one couple each day, and includes full breakfast for two persons, a bottle of sparkling wine, private butler service, and live Thai music. The breakfast is priced at THB 8,000 per couple, plus service charge and government tax.