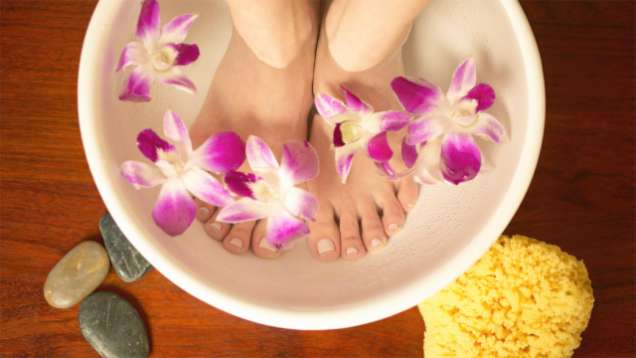 Escape to the River-View Treatment Suite located on the second floor of Four Seasons Hotel London at Canary Wharf and revel in the privacy and atmosphere of this generously sized suite, designed to accommodate individuals or pairs. Wind down instantly as the movement of the mighty River Thames comes into focus through the sweeping picture windows. De-stress under the influence of rose and jasmine fragrances, revitalise with willow and marigold, and restore with ginger and arnica. All-natural organic products from the Organic Pharmacy ensure that your body is nourished with ingredients found in nature. Offering you the freedom to choose the length of your massage and the type of aromatic oil and pressure used, our therapists can tailor treatments to meet your unique needs.
Four Seasons River-View signature ritual
Uniquely designed for Four Seasons Hotel London at Canary Wharf, this treatment begins with a nourishing foot scrub and a deep acupressure foot massage that complements the calming view of the River Thames. Next, a full-body massage relieves tension while you listen to the music of your choice. Specially selected heated river stones are then used with extracts of willow and lemon balm to calm the nervous system and relax tight muscles, while marigold is used to promote regeneration and reduce puffiness. Your treatment ends with a deeply energising head and face massage, leaving you recharged and refreshed.
80 Minutes - 105 GBP
80 Minutes
GBP 105
Call 44 (20) 7510-1999
Business traveller's massage
These massage treatments are customised to meet your unique needs. You choose the treatment duration, the type of massage oil and the technique you wish to be applied, and our skilled therapists work to relieve the tensions, aches and strains created by busy travel schedules.

25-minute express massage – Perfect after a flight, before a meeting or whenever you're pressed for time, this treatment focuses on the back, neck and shoulders, or on the feet and legs.

50-minute full-body massage – Designed to melt away stresses and strains and revitalise the body's systems, this full-body treatment includes a short scalp massage and a foot massage.

80-minute extended full-body massage – An experience for the whole body, this extended full-body massage includes a foot scrub, an acupressure foot massage, a luxurious scalp massage and a revitalising facial massage.

Choose from light-pressure, medium-pressure or deep tissue massage techniques, and one of the following oil blends:


Energising rosemary and grapefruit – Boosts circulation to energise the body and clear the mind.
De-stressing jasmine and rose – Jasmine is rich in a stress-relieving molecule called indole, which relaxes without causing drowsiness, while rose calms and balances the mind and body.
Therapeutic ginger and arnica – This warming mixture eases aches and pains and soothes sore, tight muscles.
25 Minutes - 50 GBP
50 Minutes - 75 GBP
80 Minutes - 95 GBP
25 - 80 Minutes
GBP 50 - 95
Call 44 (20) 7510-1999
Deep-Cleansing Head and face – for men
Based on the Organic Pharmacy's Men product line, this deep-cleansing treatment is designed to eliminate toxins that accumulate in the face. Green tea and sandalwood regenerate tired skin, while licorice and shea butter soothe and nourish. Special techniques used during the treatment's deeply relaxing face, head and neck massages oxygenate the skin and boost circulation, encouraging healthier hair and a refreshed-looking face.
60 Minutes - 80 GBP
60 Minutes
GBP 80
Call 44 (20) 7510-1999
The Organic Pharmacy rose crystal lymphatic
This luxurious facial treatment begins with deep breathing and a jasmine aroma inhalation, followed by deep cleansing, exfoliation, steaming and gentle extraction. Next, four luxurious masks of rosehip, seaweed, honey and jasmine and collagen are applied. The 60-minute treatment includes an intensive massage of the hands and arms, while the 90-minute treatment also adds a massage of the feet, face, décolleté and scalp. The lymphatic system is awakened using rose crystals, and acupressure massage techniques help to lift and firm for re-energised and glowing skin. This indulgent treatment leaves you in a state of complete renewal, ready to face the world.
60 Minutes - 80 GBP
90 Minutes - 110 GBP
60 - 90 Minutes
GBP 80 - 110
Call 44 (20) 7510-1999
Note: Prices and treatments are subject to change without notice. Prices are inclusive of 20% VAT tax. Please be advised that advanced reservations are required for spa treatments. Please contact the Hotel directly to book an appointment. A couple's massage is available with 48 hours' notice for a surcharge of GBP 30. In order to avoid a 50% cancellation fee, we request that you cancel your booking at least 24 hours in advance of your scheduled appointment.