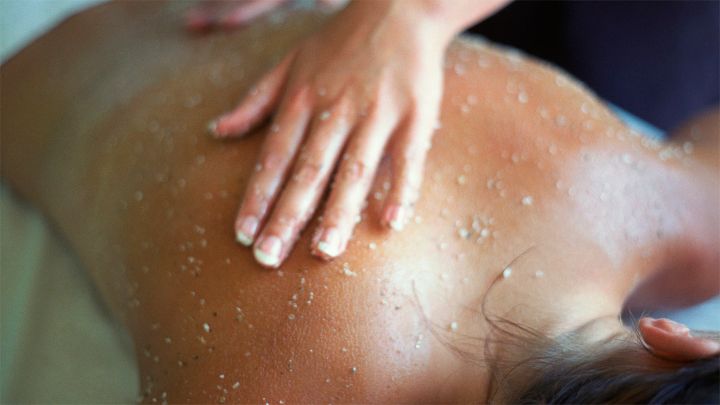 Invigorating. Moisturizing. Detoxifying. Whatever your need, we have a body treatment that will leave your skin feeling refreshed and renewed.

Avocado Body Wrap
Soft body exfoliation with a mixture of herbs blended with olive oil followed by an avocado wrap. The smooth buttery texture and mild nutty aroma of avocado makes this wrap a popular skin care agent. Avocados are an excellent moisturizer due to their rich consistency and high oil content.

Moroccan body wrap
This highly effective wrap begins with a full-body application of Moroccan soap and is followed by a Moroccan loofah scrub and a moisturizing body wrap. The experience concludes with a revitalizing moisturizer.

Cleopatra Milk Body Wrap
Cleopatra was renowned for her radiant beauty and it is said she bathed in milk scented alternately with honey, lavender and rose petals. A smothering wrap of milk-based lotion will relax the body and soften the skin, leaving it sensual to the touch.

Hydrating Body Wrap
Quench your skin's thirst with this wonderfully moisturizing wrap using natural yogurt, honey and oats. This luxury wrap is followed by a generous application of body lotion to seal in the hydration.

After-Sun Aloe Vera Cooling Mask
The magic of aloe vera gel mixed with fresh peppermint, yogurt, cucumber and honey works to diminishes wrinkles. The body and facial mask contain aloectin C, an immune system stimulant that penetrates all three layers of the skin.

Four Seasons Nature Scrub
A combination of Egypt's finest natural ingredients and precious essential oils are used to gently buff away ageing skin cells. Your choice of coconut, lupine or almond oil.

Egyptian Herbal Scrub
The slightly gritty texture of ground sunflower seeds, oatmeal, almond and orange peel in this exfoliating scrub serves to remove dead skin cells and stimulate blood supply to the skin, leaving it tingling and toned.

Brown Sugar Scrub
A luxurious scrub containing granules of brown sugar works to slough off dead cells and reveal smooth, translucent and radiant skin.

Sea Salt Oil Scrub
Reveal smooth skin with our invigorating sea salt scrub infused with orange for an uplifting effect. Add your choice of aromatherapy oils to enhance your scrub and leave your skin soft and supple.

Waxing
Half Arm
Full Arm
Back
Bikini
Brazilian
Chest
Full leg
Half leg
Underarm
Upper lip/chin
Facial threading
Upper-lip threading
Eyebrow threading
Full Body
Note: Prices and treatments are subject to change without notice. All prices are subject to 12% service charge, 10% sales tax and 1% municipality tax.