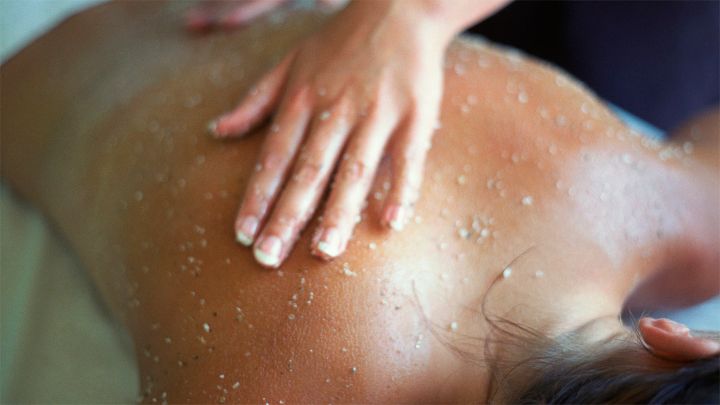 Invigorating. Moisturizing. Detoxifying. Whatever your need, we have a body treatment that will leave your skin feeling refreshed and renewed.

Marine Body Wrap
This high performance marine body wrap combined with lymphatic drainage massage helps eliminate toxins, break down fat and re-invigorate skin tissue. Starting with gentle exfoliation using marine sponge and followed by a high concentrated marine seaweed extract body wrap, the treatment nishes with a lymphatic drainage massage to completely remove toxins from the system.

Essential Sculpting Care
Targeting the abdomen, buttocks and thighs, this intensive treatment guarantees lasting results: one size reduction in just six sessions and 1 cm size reduction in four sessions. This treatment is highly recommended for those who require quick results in minimal time.

Get Essential Sculpting Care with CACI Abs or ECM to get the best result.
After Sun Aloe Vera Cooling Mask
This treatment is perfect for those suffering from sunburn or overexposure to harmful UV rays. The aloe vera gel mask is applied using special massage strokes to help penetrate and cool overall soreness.
THÉMAÉ Rituals
Gold Ceremony
Allow us to cover you in gold! Begin this ceremony with a body scrub using our Themae signature body exfoliation, which combines apricot oil, shea butter, bamboo powder and 4 Teas Elixir. A Tahitian Monoi shimmering body oil application follows to leave the skin nourished with fine illuminating gold dust.
Bamboo and Tea Elixir Body Exfoliation
This treatment renews the radiance of your skin through gentle massage and exfoliation with an aromatic paste of apricot oil, shea butter, bamboo powder and Complexedes 4 Thés® (4 Teas Elixir). Rid of impurities, your skin feels fresh and radiant.
Note: Price and Treatments are subject to change without notice. Prices are subject to applicable 27.68% taxes and Service charge. Cancellation Policy: Should you wish to cancel or re-schedule, please advise us at least 4 hours prior to your appointment time in order to avoid a 50% cancellation fee or 100% no show fee.