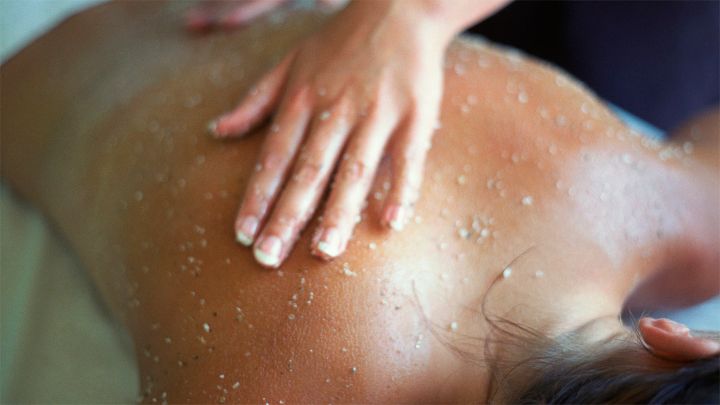 Invigorating. Moisturizing. Detoxifying. Whatever your need, we have a body treatment that will leave your skin feeling refreshed and renewed.

Marine Body Wrap
This high performance marine body wrap combined with lymphatic drainage massage helps eliminate toxins, break down fat and re-invigorate skin tissue. Starting with gentle exfoliation using marine sponge and followed by a high concentrated marine seaweed extract body wrap, the treatment nishes with a lymphatic drainage massage to completely remove toxins from the system.

Essential Sculpting Care
Targeting the abdomen, buttocks and thighs, this intensive treatment guarantees lasting results: one size reduction in just six sessions and 1 cm size reduction in four sessions. This treatment is highly recommended for those who require quick results in minimal time.

Get Essential Sculpting Care with CACI Abs or ECM to get the best result.
After Sun Aloe Vera Cooling Mask
This treatment is perfect for those suffering from sunburn or overexposure to harmful UV rays. The aloe vera gel mask is applied using special massage strokes to help penetrate and cool overall soreness.
Moroccan Bath Ritual
This traditional Moroccan bath starts with the use of steam to ease of tension and gently open up pores, followed by an application of the famous olive-based black soap and a loofah body scrub. The treatment finishes with a mud body wrap, leaving the skin supple and soft.

THÉMAÉ Treatments
Oriental Massage
Release tensions as our therapists use gentle, graceful strokes to work your muscles. Parallel kneading, treading and smoothing movements relax and calm the body and mind and instilling a sense of well-being.
This massage is the ideal treatment after the body has been submitted to intense warmth, as in hammam.
Asian Fusion Massage
Benefit from this treatment that draws from three cultures. Chinese massage works out back tensions before a Malaysian method is used for progressive massage of the abdomen. Lastly, Indian massage with a Kansu bowl and stimulating of the foot's reflex zones releases body heat. This treatment is designed to eliminate fatigue, relieve daily stresses and tensions, and rebalance energies through precise, sustained movements.
Cocoon Massage (for Expectant Mothers)
Designed for expectant mothers, this gentle, comforting and toning treatment is meant to improve blood circulation and soothe the legs and back. Enjoy a little "me" time to feel lighter and more radiant.
Cocoon Ritual (for Expectant Mothers)
Specifically designed to release tensions and improve circulation for mothers-to-be, this treatment is carried out in conjunction with the onsen ritual, a Japanese bath. As leg and back muscles relax, the skin softens, leaving the expectant mother feeling calm and pampered.
THÉMAÉ Rituals
Moroccan Indulgence/Hammam Ritual
Inspired by Maghreb traditional treatments, this ceremony purifies skin and releases tension through the heat of the hammam and a purifying black soap scrub. A body mask also smooths the texture of the skin and helps release any stresses.
Gold Ceremony (for Her)
Begin this ceremony with a body scrub using the Gommage Thé au Népal, which combines apricot oil, shea butter, bamboo powder and Complexedes 4 Thés® (4 Teas Elixir). The scrub exfoliates the skin and creates softness and radiance.
Ritual of Delights (for Him) – Body & Face
Take advantage of this invigorating treatment before the THÉMAÉ Ritual. An exfoliator blended with apricot oil and bamboo powder smooths the skin and prepares the body for the massage and green tea facial.
THÉMAÉ Ritual – Body & Face
Enjoy a body massage and the Hydration Strategy - Brilliance facial for your welcome ritual. A deep massage of the back and scalp precedes a facial that alternately stimulates, relaxes and smooths. Finally, enjoy a mask and a leg massage.
Dream Treatment for Two
Your skin will feel silky and your body will be refreshed and revitalized with this complete treatment. Gentle Oriental massage and the Hydration Brilliance Strategy facial will leave both of you feeling wonderful.
Note: Prices and treatments are subject to change without notice. All prices are subject to 12% service charge, 10% sales tax and 1% municipality tax.