My Four Seasons
Taste Egypt, One Bite at a Time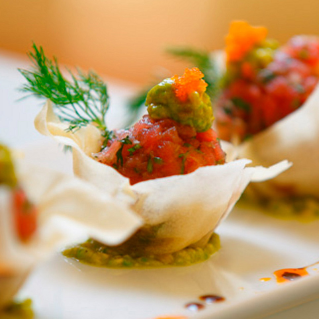 More Four Seasons Stories
Sitting down to a meal in Egypt, like the kind served at Zitouni restaurant at Four Seasons Cairo at Nile Plaza, may leave you feeling sorry for the dishwasher. It's not uncommon to see a multitude of tiny bowls, cups and saucers blanketing a diner's table, a chaotic-yet-appetizing mix of colors, textures and flavours.

They're enjoying mezze, a traditional selection of small dishes (mezzah, when referred to individually) served at the beginning of a meal or sometimes as the meal itself. Though the concept crosses many cultures, the word itself is most likely from the Turkish 'meze,' which means to "taste, flavour, smack, or relish." It's an apt choice, considering that most mezze dishes rank highly in freshness, simplicity and deliciousness.

Typical mezze dishes vary by country and culture. Here's a quick sampling:

Greece – Grilled octopus, feta cheese drizzled with olive oil and oregano, kalmata olives, eggplant salad and bekri-meze pork stew (also known as "the drunkard's meze")

Serbia – Clotted cream, salami, smoked beef, pickles, flavoured sausages and breads

Lebanon – Hummus (a dip made of mashed chickpeas), artichoke salad, yoghurt, whole roasted young bird, olives, halloumi cheese

Bulgaria - White brine cheese, lukanka and sojouk (spicy sausages) and shopska salad (made with cucumber, tomato, onion, cheese and roasted peppers)

The mezze at Four Seasons Cairo at Nile Plaza takes on two varieties: Oriental, served at The Pool Grill and the more traditional Lebanese, available at Zitouni Restaurant and via In-Room Dining. There's something for every palate: lamb brains for the culinary adventurer and mixed salads for those who prefer to keep their plates more tame. The only limit is your imagination and, perhaps, your waistline.