CELEBRATE THE SPIRIT OF RAMADAN WITH FOUR SEASONS HOTEL CAIRO AT NILE PLAZA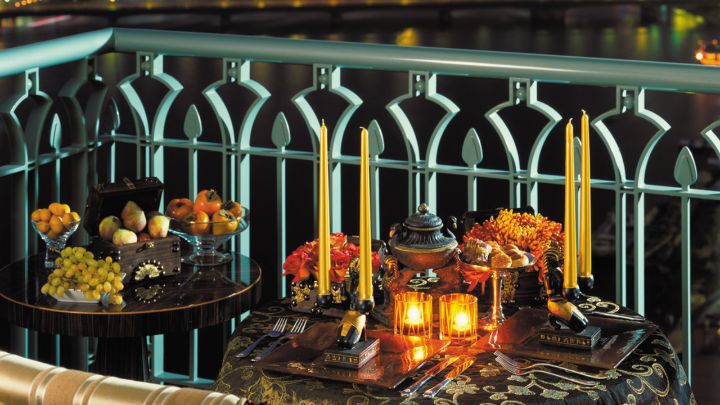 Experience a true oriental Ramadan ambiance in any of our restaurants offering Ramadan specialties, oriental delicacies and traditional drinks. Zitouni, is the ideal venue for families who are looking for the true essence of Ramadan with offering specially created Ramadan buffets with a range of mouth-watering Egyptian delicacies and delights.
Whether gathering with friends for Iftar or meeting up late at night for an elegant Sohour, the Pool Grill offers an intimate outdoor experience extending Ramadan nights from dusk to dawn with oriental tunes in an exceptional atmosphere by the pool with a variety of Shisha flavors.
For those looking for some Italian flavor, Bella will open for Iftar during the holy month of Ramadan, followed by specialties of the tasty Italian cuisine after Iftar time with the normal a la carte menu.
Guests can also enjoy Iftar and Sohour at the privacy of their room, while spending an unforgettable night in one of our luxurious rooms and enjoy the beauty and tranquility of the scenery of Cairo.
Plan your Ramadan Iftar and Sohour with Four Seasons Hotel Cairo at Nile Plaza choosing from highly selective Family-Style menus at the venue of your choice, whether inside the hotel or outside, serving from 8 guests up to 2000 guests. Savor a wide range of delectable Ramadan dishes, specially created to host your gathering in one of our various superb venues with whether you prefer the highly acclaimed Plaza Ballroom, or the elegant Nile Ballroom or any other of our special ballrooms suited for every need.
Our professional Catering Specialists, along with our highly sought-after Master Chefs, will guarantee that your Iftar or Sohour event is perfect in every way.
It's that time again when there are many special dishes on the table, extravagant buffets, traditional setup, real oriental atmosphere and the hype spirit of Ramadan. Let us take you to the ultimate Ramadan journey by the legendary Nile, where you can unwind from the daily routine life!
Call for Reservations:
20 (2) 2791-6800
Restaurants Reservations:
20 (2) 2791-6923