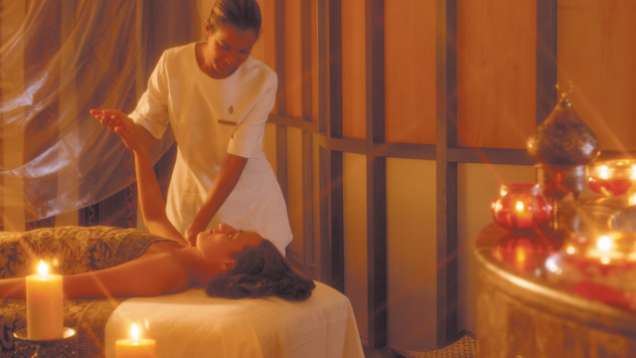 Pharaonic
Once reserved for Egyptian royalty the lingering scent of aromatic elixirs will cleanse your body, mind and soul. This body massage uses Egyptian aromatic oils to release the tension in your body, and an application of heated poultices filled with chamomile and aromatic herbs.
Thai
Practiced for centuries throughout Thailand, your therapist expertly uses their hands and feet with yoga stretches, compressions and gentle rocking. Performed on a Thai mat, this dry massage's external stimulation and torque to the muscular-skeletal system will leave you with extraordinary flexibility and mobility.
Deep tissue
Using a variety of techniques, this massage affects the deeper muscle fibres of the body, improving flexibility and enhancing muscle recovery after exercise. Mild soreness may result.
Balinese
Traditional Balinese massage is a seamless blend of acupressure, skin rolling and firm, smooth strokes that stimulate energy flow and circulation whilst creating a deep sense of relaxation. Pure aromatherapy elixirs specific to your body type and your desired results are applied for maximum results.
Swedish
This full-body massage offers gentle intensity using long, smooth strokes, allowing the whole body to relax. It is designed to relieve stress and tension and promote relaxation.
Stress Relief
Working on the energy meridians along the body, this massage is designed to help eliminate toxins, release stress and increase blood circulation. Designed for complete well-being.
Hot Stone
This ancient healing massage provides the body with ultra-deep relaxation and a renewed sense of vitality. Your therapist will use a sensory blend of essential oils and smooth heated stones to massage away muscle and joint pain, melting away tension and stress. This treatment is perfectly designed to promote deep muscle and tissue relaxation, increase metabolism and elimination, improve the flow of energy and calm the psyche by alleviating stress and insomnia leaving you feel in a state of pure bliss.
Muscle-Ease
This soothing treatment includes a warm back compress and an anti-stress back massage using Algotherm Nourishing Body Oil to ease and release muscle tension.
The Aroma Magic
Using a combination of massage techniques to manipulate the muscles with 100% Argan oil with a touch of lavender customized for your desired results, this therapeutic treatment is both relaxing and invigorating, and can assist the circulatory lymphatic nervous systems and balance the body.
Imperial
Created for discerning individuals, this multiple massage treatment is the perfect choice for anyone seeking exceptional relief. Inspired by the ancient Indian practices of Ayurveda, the 'Abhyanga' massage allows two therapists to work in synergy and create harmonious waves of tranquility as they relieve stress from your body. This extraordinary treatment can be modified to suit your individual preferences. Either way, it is an experience that will leave you feeling completely relaxed.
Tropical Magnolia
Created by Sodashi exclusively for Four Seasons, this luxurious anti-ageing, chemical-free, emotionally uplifting treatment is designed to nurture the skin and enhance overall well-being. Recommended after long journeys to ease the effects of jet lag, the treatment offers benefits to the digestive system and encourages deep relaxation.
Cocoon
This relaxing treatment concentrates on expectant mothers in their second and third trimesters. Designed to reduce pregnancy-induced stress and tension, a hot cloth soaked with herbs is massaged into pressure points to enhance mother and baby's wellbeing.
Reflexology
Reflexology is a natural healing art designed to stimulate all of the body's organs. By applying pressure to reflex points on the feet and hands, practitioners stimulate corresponding parts of the body, enhancing circulation and promoting specific bodily and muscular functions.
Note: For guests requesting an in-room massage, an additional 50 USD charge will apply. Prices and treatments are subject to change without notice. All prices are subject to 24% tax and service charge.