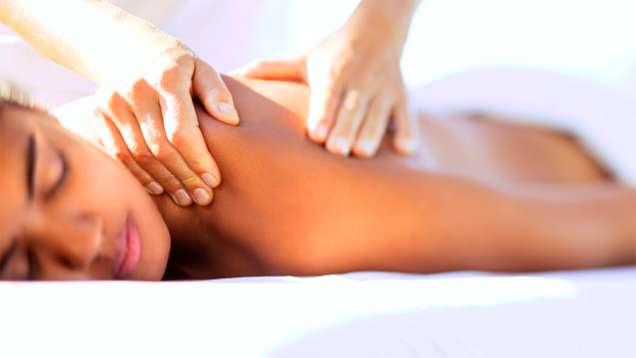 Semiprecious Crystal Stone Massage
This unique and deeply comforting massage uses the gentle, soothing energy of blue aventurine, green aventurine, lapis lazuli, yellow jade and obsidian crystals to bring balance to the physical, emotional and mental self. During the massage, perfectly warmed stones are used with long, gentle strokes. The placement of the stones onto deep-seated tension points helps loosen the muscles and dissolve stress – a blissfully nourishing and sensuous experience.
Therapeutic Massage
This firm and invigoration massage is tailored using classic therapeutic techniques to release deep-seated muscular tensions, relieve sensation of tightness and improve flexibility. The fragrant signature blend of essential oils with Frankincense, Bergamot and Calendula adds a long lasting soothing sense and leaves the skin deeply nourished.
Deep tissue muscle massage
Surrender to a vigorous physical workout of deep rhythmic pressure. Focused on relieving specific stress and muscle tension, this powerful customised massage uses dynamic blends of essential oils to suit individual needs.
Aromatic Swedish massage
Swedish massage relaxes the body, stimulates the nervous system and improves circulation. Long, smooth strokes and soothing techniques are used in this full-body treatment, and aromatherapy oils can be applied using light or medium pressure, depending on your preference. Recommended for first-time visitors.
Super Energizing Muscle Massage
An intense, deep muscle massage combining acupressure, slow strokes, deep finger pressure and other techniques on your stiff back or sore muscles to help relieve chronic patterns of muscle tension in the body. This massage is for those who prefer strong pressure.

Deep tissue back massage
Maximum tension-relieving results for those with minimal time. Specifically targeting the back, shoulders and neck areas, this powerful massage is focused where you need it most. Can be combined with a facial as a pre-facial relaxer.
Refreshing back and head massage
An intense massage focusing on the back, shoulders and neck. The treatment concludes with a soothing acupressure head massage that eases stress, revives fatigued muscles and rejuvenates the body. Ideal after exercising or travelling.
Refreshing foot massage
This massage stimulates energy pathways through reflexes on the feet, promoting relaxation and a sense of well-being. This deeply relaxing, pressure point massage incorporates ancient oriental techniques and is based upon the premise that each organ in the body corresponds to a specific point on the foot.
Note: Prices and treatments are subject to change without notice. Prices include all taxes.