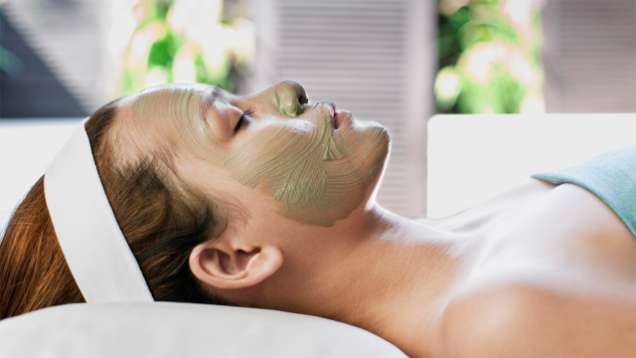 Omorovicza facials
Omorovicza treatments combine the remarkable effects of Hungary's mineral-rich thermal waters with the science of mineral cosmetology, resulting in truly unique and transforming experiences.
Blue Diamond Facial
Exclusive to the Spa at the Four Seasons, this innovative firming and brightening treatment uses a trio of revolutionary ingredients extraordinarily working with Omorovicza's exclusive Hydro Mineral Transference delivery system to restore the energy of skin cells, supercharge the tissues, and increase elasticity and smoothness.
The Blue Diamond Collection's key ingredients: Diamond peptides promote DNA repair, arabinogalactans accelerate the oxygenation, and essential amino acids and copper compounds promote the synthesis of collagen and elastin. Tired skin is awakened, and dull complexions come alive with inner luminosity and vibrancy, while the traditional Hungarian facial massage lifts and forms. Chilled Derm-A-Globes are used to sooth redness and tone to the deepest level, while for a complete transformation this facial includes also a firming inner arm treatment for a more sculpted appearance.
Gold plumping facial
This indulgent treatment begins with a copper-enriched lactic-acid peel to boost collagen production, even skin tone and lighten pigmentation. An anti-inflammatory gold serum then helps to heal accumulated micro-damage and is followed by a unique plumping massage that reduces the depth and appearance of fine lines and wrinkles. Next, a gentle eye contour massage is performed with cooling Derm-A-Globes for brighter, refreshed eyes. Finally, a nourishing poultice of organic oats and wheat hydrates the skin and a sprinkling of Gold Shimmer Oil repairs it, leaving the arms, hands and décolleté dazzling.
PÁVA Deep cleansing and pore refining Facial
This revitalising facial begins with a thermal cleansing balm followed by an exfoliation using rosemary and pineapple extract to treat sensitive skin and reduce pore size. Next, a mineral-rich and fragrant Hungarian moor mud mask draws out impurities and provides essential nutrients to the skin. Finally, a classic Hungarian facial massage stimulates collagen and elastin production to accelerate the delivery of oxygen and restore the skin's suppleness. The result is a clearer, fresher and more balanced complexion. The 90-minute treatment includes a detoxifying and stimulating back treatment.
Illuminating Facial
This brilliant facial is designed to leave complexion rejuvenated and glowing. The treatment begins with a gentle peeling enriched with copper for an antioxidant collagen stimulating effect. The combination of a re-surfacing rose and peony mask followed by unique plumping massage activates micro spheres encapsulating hyaluronic acid to reduce the depth and appearance of fine lines and wrinkles and reemerge with a radiant glow. The delicate peel is also applied to the back of the hands to lighten pigmentation and even skin tone.

Gentlemen's Facial
During this revitalising facial, mineral-rich Hungarian moor mud draws out impurities and provides essential nutrients to the skin. A thorough cleanse and exfoliation use thermal mud in balm form and organic diatomite to slough off dead skin cells and stimulate circulation. A fragrant mud mask is then applied, and a classic Hungarian facial massage instantly lifts and firms the skin. The 90-minute treatment ends with a shoulder massage to relieve tight muscles.
Advanced Performance Facials
Biologique Recherche Facial
Biologique Recherche is based on a clinical approach to beauty. The line uses intentionally pure, concentrated, raw ingredients as well as meticulous protocols and procedures. The philosophy is to treat each skin uniquely, that it changes many times even within a day. The approach observes the epidermis and how it interfaces with the skin's deeper structure.
The therapists at the Spa at Four Seasons Hotel Gresham Palace Budapest have been trained in more than 100 different Biologique Recherche products to deduce which cocktail combination will best clear, exfoliate and repair according to skin type. Each serum, masque and cream is formulated to work together using unique, original gestures for immediate, outstanding, almost magical results. This treatment is recommended for men and women.
Enhancers to intensify the results of any facial or body treatment
Eye treatment
In this 15-minute eye treatment, arnica and vitamin K are used to reduce puffiness and dark circles, while an anti-inflammatory gold serum repairs and strengthens the delicate skin around the eyes. A gentle massage using cooling Derm-A-Globes soothes and relaxes the eye contour for brighter, refreshed eyes.
Neck and décolleté
This brief but effective resurfacing treatment helps to reduce the depth and appearance of fine lines and wrinkles in the delicate skin of the neck and décolleté. The targeted massage plumps, tones and restores elasticity. A gold-enriched oil helps to heal and repair the epidermis while leaving it radiant and glowing.
Note: Prices and treatments are subject to change without notice. Prices include all taxes.