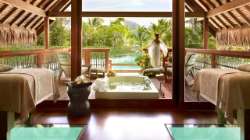 Earn spa credit worth EUR 150
Consider changing your overwater "point of view" and earn a EUR 150 spa credit. Enquire with our Resort reservation consultants and learn more about our Over-Water Bungalow incentive offer, in exchange for your flexibility in moving rooms during your stay with us!

Through the traditional practise of yoga, you will experience awareness about your own true movements, which are inspired by the rhythm of your breath.
Friday through Tuesday at the Main Pool
10:00 am Complimentary 30–minutes Intro to Yoga Class
HATHA YOGA
This one-hour session starts with breathing exercises, concentrating on inhaling and exhaling, followed by a warm-up with the Surya Namaskar (sun salutation.) Continue with yoga positions intended to support the elasticity and core strength of your body and end with relaxation.
STAND-UP PADDLEBOARD YOGA
On Bora Bora's turquoise lagoon, experience the Resort's newest fitness class - a combination yoga and stand-up paddle boarding! This is a fun and challenging way to start your day while improving flexibility, balance and strength.
RESTORATIVE YOGA YOGIC SLEEP
This session uses bolsters and postures to enhance deep relaxation. This practice allows for higher levels of awareness and promotes harmony and peace by releasing mental, emotional and muscular tension. It can also help relieve insomnia.
YOGA FOR YOUR BACK
Regardless of your prior experiences or current level of fitness, with regular practice the Yoga for your Back program is designed to assist you to regain and restore your spinal health.
YOGA CLASS
• Complimentary 30 Minutes Intro to Yoga Class at the Main Pool Friday through Tuesday: 10:00 am
• Other Class: XPF 2,000 per person
• Stand-up Paddleboard Yoga class: XPF 7,000 per person (limited capacity)
YOGA PASS
• Yoga pass: (all classes except Stand-up Paddleboard Yoga) XPF 5,000
• Yoga pass + 1 Session Stand-up Paddleboard Yoga: XPF 8,000
• Yoga pass + 1 Private session: XPF 22,000 per person , and XPF 30,000 per couple
PRIVATE YOGA LESSONS
For any yoga class, please book 48 hours in advance.
• Single 50 Minutes XPF 18,500
• Couple 50 Minutes XPF 24,500
• Additional person XPF 5,000
PERSONAL TRAINER
For any class of fitness, please book 48 hours in advance.
50 Minutes XPF 23,000
Note: For any yoga session, please book 48 hours in advance. Prices and treatments are subject to change without notice.