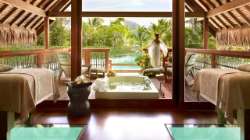 Earn spa credit worth EUR 150
Consider changing your overwater "point of view" and earn a EUR 150 spa credit. Enquire with our Resort reservation consultants and learn more about our Over-Water Bungalow incentive offer, in exchange for your flexibility in moving rooms during your stay with us!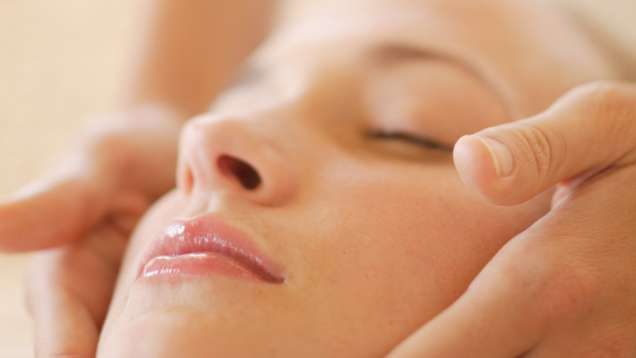 Esthederm facials
These essential cellular treatments include balance-restoring treatments that target major skin disorders. For all facials, your therapist will conduct a skin diagnostic with you, focusing on your needs. Should you want to enhance your tan, ask your therapist to apply our specialised sun care.
Absolute aqua
This rehydrating treatment was designed to restore and maintain the skin's moisture levels for long-term results.
Absolute purity
This purifying and rebalancing treatment replenishes the skin with oxygen.
Absolute calm
This soothing treatment deeply calms the skin.
Absolute repair
This repairing treatment is ideal for damaged, tired or worn out skin caused by stress and environmental factors.
Cellular youth treatments
These rejuvenating and firming treatments provide targeted solutions for ageing skin.
Absolute lift
This instantly rejuvenating treatment naturally lifts your skin and diminishes wrinkles and fine lines.
Extreme transparency
This treatment leaves your complexion more luminous, clear, even and smooth.
Water and light
To instantly revive the complexion, this treatment gives the skin a boost of energy.
Osea facials
Osea facials use organic seaweed harvested from the purest waters on Earth to improve the condition of the skin and enhance its appearance. Treatment begins with an in-depth skin analysis using state-of-the-art equipment to determine any causes of imbalance. Every facial includes specialised cleansing techniques, gentle exfoliation, a skin-specific mask and a cranial-facial massage.
Sea of life signature facial
This unique treatment is a true refreshment for the face. An in-depth skin analysis addresses both external and internal issues. Once analyzed, the face is treated to a deep cleanse followed by oxygen serums and a skin-specific mask. The luxurious experience includes a customised cranial-facial massage and a soothing massage to help relieve stress.
Anti-ageing
To brighten and balance skin tones, this treatment uses pure white algae, white wine, white tea and various peptides blended with marine-based anti-ageing serums to give the face a more youthful appearance. Accompanied by an uplifting facial massage, this nutrient-rich treatment lightens shadows and helps diminish hyperpigmentation.
Sensitive
Osea designed this facial to address the special needs of those with extremely sensitive skin. By calming irritation, replenishing lost nutrients and boosting the skin's natural ability to protect itself against environmental damage, this facial is especially effective in soothing skin conditions such as rosacea and sensitive or severely dehydrated skin.
Alpha male
Designed specifically for men, this anti-ageing facial helps protect and restore skin damaged by sun exposure, razor burn and the ageing process. The face is deeply cleansed and exfoliated, then treated with a mask tailored to your specific needs. A relaxing face, shoulder, neck and head massage will leave you feeling refreshed and soothed.
Note: Prices and treatments are subject to change without notice.