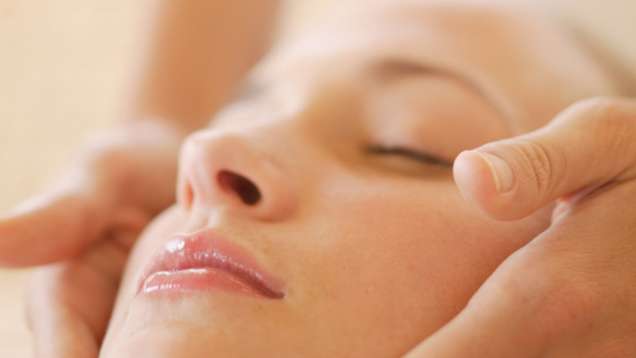 Vibrant, radiant, even-toned skin is not only beautiful, it also suggests a healthy lifestyle and someone who cares about how they look. Our Spa offers a diverse and results-driven selection of skincare treatments and therapies personalised to each guest. Expert aestheticians assess your specific skincare needs to create a fully customised service.
SAMADARA ILLUMINATING AGE-DEFYING FACIAL
This intensive skin transforming facial introduces you to a unique alchemy of the purest botanical ingredients to significantly diminish lines, reduce pigmentation and refine pores. A Rose Quartz Crystal facial massage and a sequence of timeless Ayurvedic anti-aging techniques, complemented by a brightening marine mask, leaves skin looking clear, translucent, more lifted and firmed.
75 Minutes - 280 USD
75 Minutes
USD 280
Call 961 (1) 761000
Samadara ultimate age-defying facial
Turn back the hands of time and transform your skin with this intensely hydrating and nourishing treatment. Using a sequence of anti-ageing techniques rooted in Ayurvedic healing traditions, this facial is designed to reawaken the skin's natural healing energies to increase firmness and elasticity, diminish the appearance of fine lines and restore a youthful glow. A rose-quartz crystal facial massage enables the powerful Samadara Ultimate Age-Defying Crème to penetrate deeply into the skin for maximum benefit.
105 Minutes - 369 USD
105 Minutes
USD 369
Call 961 (1) 761000
Thermal infusion Facial
This is an intensive boost using many of nature's vitamins and minerals. Sodashi's exclusive warm infusing mask will maximize penetration of these essential vitamins and minerals into the deep layers of the skin. This ultimate facial indulgence is tailored to your skin needs, whether to purify and deeply cleanse or to nourish, leaving your skin hydrated and toned. Restoring lost elasticity and radiance, this is more than just a facial – it's nature's facelift.
90 Minutes - 219 USD
90 Minutes
USD 219
Call 961 (1) 761000
Marine mineral Facial
Using the potency of marine plants, this facial is rich in spirulina and fucus extract to bring radiance to your complexion. Tailored to your unique skin type, it is the perfect treatment to oxygenate, tone and revitalize the skin. This facial experience will be enhanced with a Sodashi facial massage to leave your skin radiant.
60 Minutes - 159 USD
60 Minutes
USD 159
Call 961 (1) 761000
Purity facial
Sodashi plant essence synergy combines with the cleansing properties of argiletz clay, rich in minerals to deeply cleanse congested or imbalanced skin types. This facial assists in refining the pores and leaves the skin feeling refreshed, clean and balanced.
60 Minutes - 159 USD
60 Minutes
USD 159
Call 961 (1) 761000
Calming facial
Enjoy cooling mists and soothing aromatic gels that nurture the skin. Sodashi plant essences and herbal extracts will strengthen the capillaries and desensitize your skin, leaving it revived with a calm, even complexion. This treatment is suitable for very sensitive skin types.
60 Minutes - 159 USD
60 Minutes
USD 159
Call 961 (1) 761000
Thermal eye zone treatment
A treat for the delicate eye area to revive and relax tired or stressed eyes. Sodashi's mineral-rich mask gently warms to enhance the absorption of plant essences into the deep layers of the skin. These essences are rich in nutrients, which are vital for the health and repair of our skin. This Sodashi eye treatment will work to restore tone and elasticity and remove tension from the eye area, reducing any puffiness, dark circles and fine aging lines.
45 Minutes - 138 USD
45 Minutes
USD 138
Call 961 (1) 761000
Swiss Anti-Aging Jewel
From the Swiss Alps our soothing and nourishing honey is extracted directly from the hive.
This journey commences with a deep cleansing and exfoliation using a bamboo peeling.
A rejuvenating massage, followed by an application of nutrient rich serum and essentials oils, will combat the signs of aging. An extra dose of vitamin and trace element with our Royal Jelly mask will turn back the hands of time.
60 Minutes - 139 USD
60 Minutes
USD 139
Call 961 (1) 761000
Luxury Green Caviar
By the power of Swiss anti-aging excellence, this treatment suits particularly skins in need of a regenerative boost. The intense dose of Green Caviar from Okinawa, Japan, combined with the Gold trace elements penetrate on a cellular level to repair and revamp the skin.
60 Minutes - 159 USD
60 Minutes
USD 159
Call 961 (1) 761000
Corrective Silk
Fruit-derived Alpha Hydroxy Acid will treat hyper pigmentation, block melanin synthesis and reduce free radicals damage. The skin is left brighter and unified in appearance through complete epidermal exfoliation.
60 Minutes - 149 USD
Collagen Firming
The association of Kombuchka, Tamarind seeds and peptides, has an excellent natural action on the hydration of the skin and the stimulation of collagen synthesis.
This active combination contributes to reduce wrinkles and boosts the youth of the skin.
This treatment will bring a firmer, dense, smoother and more uniform complexion through our plumping Acacia Collagen Mask.
60 Minutes - 149 USD
60 Minutes
USD 149
Call 961 (1) 761000
Note: Prices and treatments are subject to change without notice. All prices include 10% VAT.