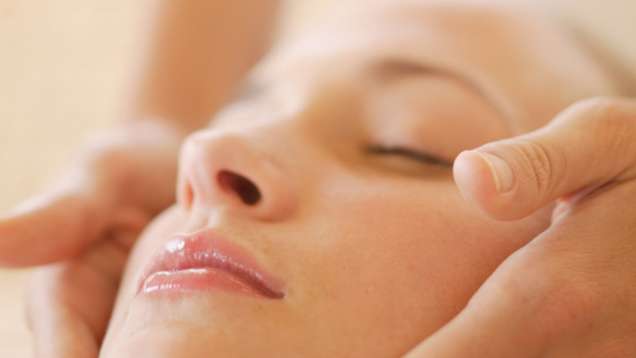 Vibrant, radiant, even-toned skin is not only beautiful, it also suggests a healthy lifestyle and someone who cares about how they look. Well & Being offers a diverse and results-driven selection of skincare treatments and therapies personalised to each guest. Expert aestheticians assess your specific skincare needs to create a fully customised service.
Samadara ultimate age-defying facial
Turn back the hands of time and transform your skin with this intensely hydrating and nourishing treatment. Using a sequence of anti-ageing techniques rooted in Ayurvedic healing traditions, this facial is designed to reawaken the skin's natural healing energies to increase firmness and elasticity, diminish the appearance of fine lines and restore a youthful glow. A rose-quartz crystal facial massage enables the powerful Samadara Ultimate Age-Defying Crème to penetrate deeply into the skin for maximum benefit.
105 Minutes - 369 USD
105 Minutes
USD 369
Call 961 (1) 761000
Sodashi thermal infusion
This is an intensive boost using many of nature's vitamins and minerals. Sodashi's exclusive warm infusing mask will maximize penetration of these essential vitamins and minerals into the deep layers of the skin. This ultimate facial indulgence is tailored to your skin needs, whether to purify and deeply cleanse or to nourish, leaving your skin hydrated and toned. Restoring lost elasticity and radiance, this is more than just a facial – it's nature's facelift.
90 Minutes - 219 USD
90 Minutes
USD 219
Call 961 (1) 761000
Sodashi marine mineral treatment
Using the potency of marine plants, this facial is rich in spirulina and fucus extract to bring radiance to your complexion. Tailored to your unique skin type, it is the perfect treatment to oxygenate, tone and revitalize the skin. This facial experience will be enhanced with a Sodashi facial massage to leave your skin radiant.
60 Minutes - 159 USD
60 Minutes
USD 159
Call 961 (1) 761000
Sodashi purity facial
Sodashi plant essence synergy combines with the cleansing properties of argiletz clay, rich in minerals to deeply cleanse congested or imbalanced skin types. This facial assists in refining the pores and leaves the skin feeling refreshed, clean and balanced.
60 Minutes - 159 USD
60 Minutes
USD 159
Call 961 (1) 761000
Sodashi man maintenance
Begin with a relaxing Sodashi salt therapy back massage that will ease stress and reduce tension in the mind and body. Continue with a deep cleansing and exfoliating facial that balances the skin's natural oils and assists in preventing ingrown hairs. Sodashi's soothing mists with woody aromas will desensitize your skin, and a facial massage will tone and firm the muscles, leaving you looking fresh and relaxed.
60 Minutes - 159 USD
60 Minutes
USD 159
Call 961 (1) 761000
Sodashi sensitive facial
Enjoy cooling mists and soothing aromatic gels that nurture the skin. Sodashi plant essences and herbal extracts will strengthen the capillaries and desensitize your skin, leaving it revived with a calm, even complexion. This treatment is suitable for very sensitive skin types.
60 Minutes - 159 USD
60 Minutes
USD 159
Call 961 (1) 761000
Biologique Recherche Facial
Using the time-honored Biologique Recherche Methodology, this highly customised facial first assesses the present health of the skin, and taking into account any long- and short-term beauty goals, designs a tailor-made solution unique for you. Each serum, masque and cream is formulated to work together using unique, original gestures for immediate, outstanding, almost magical results.
Choosing the best combination of products to create the facial your skin most needs, the therapist delivers deeply restorative therapy, both hands-on and using the high-tech Remodeling Machine, for visible lifting and a radiant result.
This treatment is recommended for men and women.
60 Minutes
ABOUT BIOLOGIQUE RECHERCHE
Founded in France more than 40 years ago, Biologique Recherche is based on a clinical approach to beauty. The line uses intentionally pure, concentrated, raw ingredients as well as meticulous protocols and procedures. The philosophy is to treat each skin uniquely, given that it changes many times even within any given day. The approach observes the epidermis and how it interfaces with the skin's deeper structure. The exclusive French brand is praised by celebrities around the world.
60 Minutes
Call 961 (1) 761000
Eye-Area Treatments
Sodashi thermal eye zone treatment
A treat for the delicate eye area to revive and relax tired or stressed eyes. Sodashi's mineral-rich mask gently warms to enhance the absorption of plant essences into the deep layers of the skin. These essences are rich in nutrients, which are vital for the health and repair of our skin. This Sodashi eye treatment will work to restore tone and elasticity and remove tension from the eye area, reducing any puffiness, dark circles and fine aging lines.
45 Minutes - 138 USD
45 Minutes
USD 138
Call 961 (1) 761000
Express eye treatment
A great addition to any body treatment, this is a quick and effective way to reduce puffiness and dark circles or soothe irritation due to tension. Following gentle cleansing of the eye area, specialized massage movements and a skin-firming gel leave the eye area looking and feeling lifted and toned.
15 Minutes - 52 USD
15 Minutes
USD 52
Call 961 (1) 761000
Note: Prices and treatments are subject to change without notice. All prices include 10% VAT.