Destination
Recreational Activities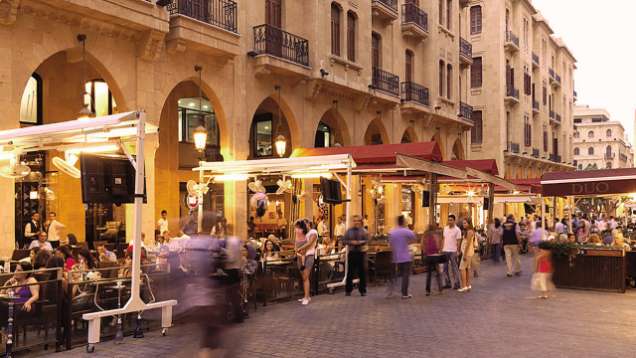 Within easy reach of your Four Seasons guest room or suite are other options for sports or active enjoyment. For further ideas or details, our Concierge is always pleased to advise and assist you.
Water Sports and Activities

Our Concierge can help you organize a variety of water sports and activities through Water Nation Sports Center, a fun and educational facility that provides access to numerous water-related activities from its location at the Solidere Beirut Marina in Zaitunay Bay. Activities include the following:



Yacht Rentals & Charters – The centre provides rentals and charters for cruises on the Mediterranean, with sophisticated catering, entertainment and hospitality services available. On-board parties and receptions can be organized on request.
Boat Rental – Boats can be rented by the hour, the day, or the week. An extensive on-board catering service is also available on request.
Beirut by Day or Night – Discover Beirut by daylight or moonlight during a memorable boat tour.
Personal Watercraft Rentals – Jet skis can be rented by the hour, with or without an instructor. Tournaments can also be organized.
Waterskiing, Banana Boats, Doughnuts & Parasailing – The centre offers instruction in these fun water activities for guests of all ages, as well as organized events and tournaments.
Sailing & Fishing – Learn to sail during one of the centre's courses, or head out on a specialized fishing trip.
Scuba Diving – The centre offers scuba diving lessons for those of all experience levels, as well as instruction in all levels of technical diving. Try an easy introduction to scuba with a Discover Scuba diving session – no experience is necessary.
Kids' Summer Camp – Available to kids between the ages of 10 and 16, the centre's Summer Camp includes activities such as sailing, waterskiing, jet skiing, snorkelling, scuba diving, fishing, and field trips to discover Lebanon.

Walking and cycling

Paris Avenue merges with General de Gaulle Avenue to form the 4.8-kilometre (3-mile) Corniche, which encircles central Beirut and provides excellent walking and cycling.

Beirut Marina in downtown Beirut also offers interesting walking, as does the nearby Pigeons' Rock in Raouché at sunset.
Winter sports

Within an hour's drive from Beirut are six resorts that cater to skiers and snowboarders at all levels. Cross-country skiing and snowmobiling are also available.
The Golf Club of Lebanon

Established in 1923 and recently renovated, this 18-hole, par-71 course showcases beautiful greenery and colourful florals that make even the most competitive golf game a delightful walk in a beautiful park. The course layout presents a serious challenge to accomplished players, with a total championship length of approximately 6,500 yards.