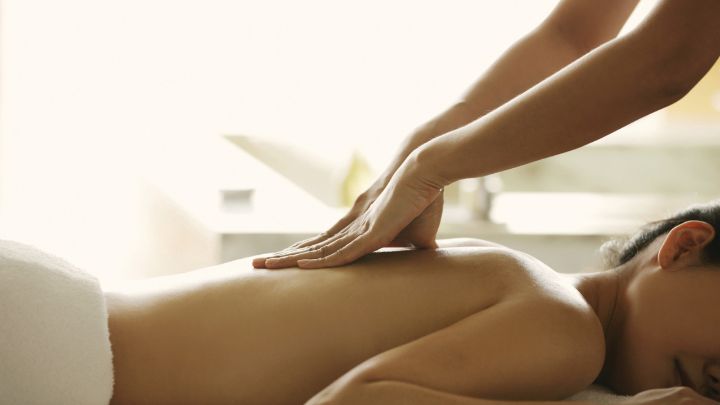 The benefits of massage extend far beyond relaxing the body: it can increase joint mobility, blood flow and lymphatic drainage, reduce blood pressure and ease pain. Massages are available for 60 or 90 minutes at the Spa at Four Seasons Beijing.
Asian Fusion
Our signature massage combines specialized techniques from all over Asia, including Chinese manipulation and rocking, Thai stretching and Shiatsu pressure point. Together with our exclusive oil blends and flowing, dance-like strokes, it is as energizing as it is relaxing.
Aromatherapy
Ideal for someone looking for pure relaxation, this ancient healing therapy combines the nurturing powers of touch with blends of aromatic essential oils. The massage combines light to medium pressure and long, gliding strokes to reduce tension, soothe sore muscles and increase lymphatic and blood circulation.

Chinese
Address muscle and joint tension while clearing energy blockages with this strong, deeply manipulative massage. Performed in loose, comfortable clothing.
Balinese
Combining long, deep strokes, rocking, stretching and reflexology, Balinese massage brings deep relaxation alongside relief from stress and anxiety.
Hot Stone
Unknot over-stressed muscles and improve energy flow and blood circulation with a combination of warm aromatherapy oils, skilled hands and heated stones. Perfect to deeply relax the body and mind.

YIN YANG FOUR HANDS MASSAGE
This extraordinary experience has two skilled therapists performing massage techniques together at the same time for the ultimate in relaxation. The treatment concludes with a simultaneous head and foot massage for an uplifted mind and body.
For a Yin Yang balancing effect, enjoy this treatment with one male and one female therapist.
ORIENTAL FOOT THERAPY
Originating in China, this treatment is built on the belief that reflexology targets pressure points, each associated with a particular area of the body. Oriental Foot Therapy starts with a cleansing and exfoliation for lower legs and feet followed by a massage to stimulate the immune system, revitalise and rebalance the body.

Note: Prices and treatments are subject to change without notice.
* Effective 01 May 2016, above rates are subject to 10% service charge and applicable VAT.