My Four Seasons
People-watching in Beijing's Parks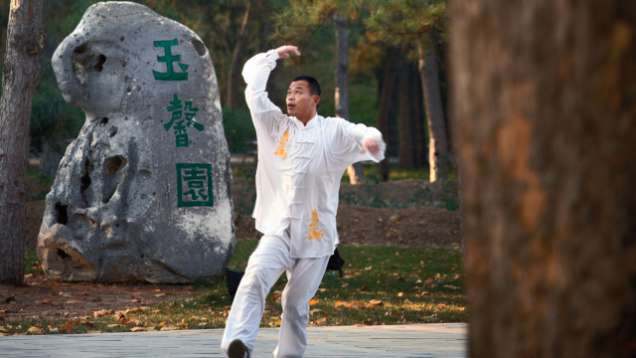 In a city of more than 22 million residents, Beijing presents some formidable people-watching opportunities. But forget the crowds that move as one at the Forbidden City or snake along the Great Wall. If you want to catch the glint in Beijing's eye, head to the parks when the weather is fine.
The 2.73 square kilometres (1 square mile) of parkland that surrounds the Temple of Heaven is a great place to start. Entering through the West Gate, the sense is of walking into a huge family gathering, a communal celebration of life and living.

Elderly men with giant calligraphy paintbrushes craft strokes of fleeting beauty in water on the black stone promenade. Huddles of bowed heads discuss technique before the sun evaporates their efforts to the heavens. Skilled couples demonstrate tai chi rouli ball, swirling and swooping a single ball between four rackets. Tai chi groups follow their teacher with harmonious union. "Four Step" dance aficionados invite bystanders to join in. Men play poker in the shade, for fun or for ice cream. Groups sing from handwritten song sheets as children dart between gatherings on the grass. A culture of sharing and openness pervades. Smiles abound. People have time for each other, and the energy is palpable.

Deeper within the temple complex, Chinese tourists jostle to stand on the Circular Altar's Heart Stone, seeking peace and prosperity. Way beyond them, beneath the protection of the gardens' 10,000 ancient trees, the Beijingers are already reaping the Heart Stone's rewards.