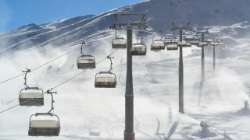 Winter in Baku
Find your winter wonderland in the heart of Baku, or escape to the Shahdag ski resort and take advantage of the Hotel's preferred availability and complimentary transportation. Just 2.5 to 3 hours north of Baku by car, you'll find no fewer than 19 world-class ski slopes suitable for a wide range of experience levels. Shahdag's own ski school offers experienced private instructors for beginners as well as advanced skiers.
Offers available at Baku (4)

Best Rate Guaranteed
Book direct and get the best rate, most favourable cancellation terms and our highly personalized service, guaranteed.
Room Rate
Best available room rate. Our most flexible option.
Bed and Breakfast
Enjoy a perfect night's sleep followed by an expertly prepared meal from our top-rated chefs – a flawless way to start your day.
Welcome to Baku
Discover the dynamic city of Baku with this special package designed to make your Azerbaijan travels as hassle-free as possible.
Call +994 12 404 2424 for assistance in booking this package. Learn more
We're sorry, Baku does not support online booking at this time. Please call +994 12 404 2424 for assistance.