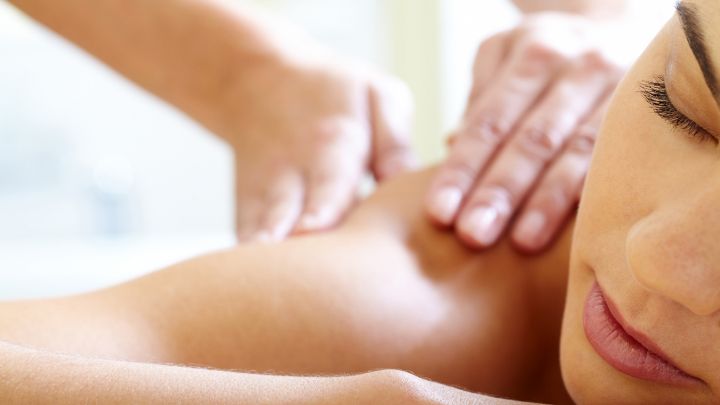 Custom Classic Massage
Our talented massage therapists will work with you to create the perfect blend of massage techniques to suit your needs.
Violet Crown Tranquillity Massage
Like one of Austin's "violet crown" sunsets – radiant purple hues that slowly diffuse into a soft glow – this full-body massage becomes slower and slower as it progresses. A delicate blend of violet leaf, lemon, mint and sandalwood further relieves stress, lulling you into a state of deep peace.

Herbal Apothecary Allergy Relief Massage
"Just breathe" is easier said than done when it comes to seasonal allergies, but this specially focused massage will help you do just that, using the ancient science of aromatherapy. Herbal and floral essences combine with a targeted upper body massage to alleviate built-up tension in your head, neck and shoulders, while hot towel compresses gently open your airways, allowing you to breathe easy again.

Turquoise Sage Arnica Deep Tissue Massage
Perfect after a hard workout or when your body is especially stressed, this deep therapeutic massage features turquoise sage oil, a high-quality blend of pain-relieving arnica, relaxing lavender and healing sage to relieve sore muscles. Areas of extreme tension will be targeted with deep-tissue and neuro-muscular techniques to free and loosen the entire body.

Maternity Massage
Specially designed for mothers-to-be, this nurturing massage provides much-needed comfort and pampering during the second and third trimesters of your pregnancy.

Reflexology Massage
An ancient Eastern massage style, reflexology links pressure points on your feet and hands with the body's natural functions, balancing your energy flow while promoting stress relief and overall well-being.

Nature's Break Massage
Tailored to provide rapid relaxation and rejuvenation, this massage is ideal for when you only have a limited amount of time.

ENHANCEMENTS
Scalp treatment massage with Moroccanoil
Restore healthy, smooth and strikingly shiny hair. Moroccanoil revives over-processed hair damaged by environmental factors and chemical procedures. For maximum benefits, leave it in your hair after the treatment before washing and styling as normal.
USD 20
Hydrating hair mask from Moroccanoil
Designed to make hair soft and manageable, this intensely hydrating mask helps to repair, revitalise and add shine. For maximum benefits, leave it in your hair after the treatment before washing and styling as normal.
USD 20
100% natural organic shea butter
Combine the relaxing experience of a massage with the soothing and hydrating properties of 100% shea butter. Add one of four essential oils: lavender, lemongrass, cocovanilla or fig.
USD 10
Exfoliating Back Scrub
Enjoy a refreshing back scrub during your massage, featuring a delightful orange peel scrub infused with argan, avocado and sweet almond oils.
USD 10
Gehwol foot therapy
During your massage, your therapist will treat your feet to some focused attention, massaging them with an intensely hydrating Gehwol foot lotion featuring rosemary, mountain pine and lavender.
USD 5
Note: Prices and treatments are subject to change without notice.