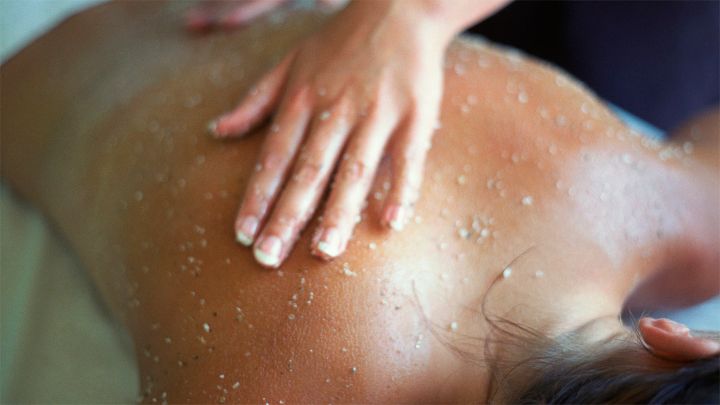 Signature Lavender-Lemongrass Journey
Experience aromatherapy at its finest in this decadent spa treatment featuring a lavender-sea salt exfoliation, followed by a head-to-toe massage and a lavender-lemongrass body butter wrap. Local Texas Hill Country lavender and a fragrant blend of rosemary, patchouli, lemongrass and green tea essential oils – known for their awakening and energising effects – leave you in a state of deeply hydrated bliss.

Prickly Pear Pomegranate Body Wrap
Your skin will blossom during this Texas-style indulgence that blends prickly pear and pomegranate extracts with essential oils of citrus and white magnolia for an uplifting, sensuous experience. A dry exfoliation first prepares the skin for a prickly pear body butter infused with rich, moisturising shea, jojoba and aloe vera. Gently wrapped in warm blankets to ensure maximum absorption of the body butter's hydrating benefits, you'll enjoy a stimulating hair and scalp treatment that leaves hair shining and radiant.

La Delgada Slimming Body Wrap
Treat your body like the temple it is with this detoxifying and firming treatment, guaranteed to leave you looking fabulous all year round. Your treatment begins with a dry exfoliation to stimulate lymphatic drainage and detoxification, followed by an application of a European-inspired lemon and espresso slimming oil formulated to purify and tone your body.

Pura Vida Detoxifying Body Treatment
Spanish for "pure life", Pura Vida is more than a phrase – it's a way of living. This aptly named detoxifying treatment serves as a launching point for improved overall well-being, with an anti-inflammatory desert clay body mask – infused with rosemary, grapefruit, juniper and thyme – stimulating and purifying your lymphatic system, while a full-body, essential oil massage cleanses the skin and rejuvenates the mind.

Hill Country Wine and Grapeseed Scrub
Wine country meets Hill Country in this unique treatment that blends an antioxidant-rich grapeseed oil scrub with a relaxing rosemary lotion massage. Gently exfoliated and deeply hydrated, your skin will find the results nothing short of intoxicating! Note: 80-minute treatment includes a full-body massage.

Homemade Seasonal Scrub
Inspired by the season and the bounty of the nearby Texas Hill Country, our aromatic house-made scrub rotates seasonally and is freshly prepared for you in the treatment room by your spa therapist. Skin is left smooth, supple and hydrated, while your mind and spirit are nurtured and relaxed. Note: 80-minute treatment includes a full-body massage.
Hello Sunshine! Scrub
A burst of sunshine is good for the soul, and now it's good for the skin as well. In this uplifting treatment, a ginger- and lime-infused sugar scrub provides a full-body exfoliation while a nourishing dry oil of meadowfoam and argan hydrates. Delight in cheerful scents of pomegranate and citrus – and the knowledge that the dry oil also provides you with SPF 50 protection. A portion of proceeds from each Hello Sunshine! Scrub will be donated to cancer research and treatment.

Depilatory services
A full range of depilatory services is available.
Note: Prices and treatments are subject to change without notice.