My Four Seasons
Pets, Patios and Pizza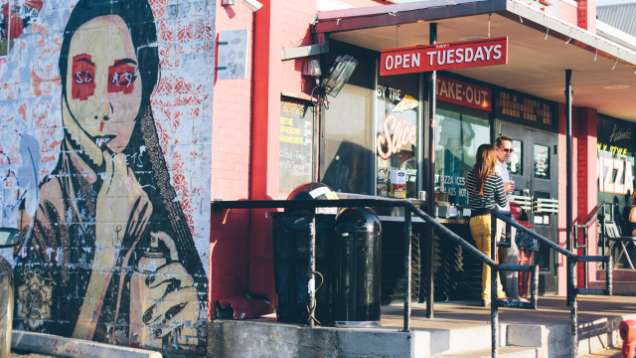 Ed Gannon, Hotel Manager (1 1/2 years in Austin)
As a local, I'd love to share "My Austin" with you in hopes that you experience the city and grow to love it as much as we all do.
Play

After an early-morning run around Lady Bird Lake, I typically meet up with my wife at Auditorium Shores as she finishes her walk with Gabby, our German Shepherd. We can let Gabby loose for some off-leash exercise and playtime with the other friendly dogs. Just past the doggy swimming hole is a great Stevie Ray Vaughan statue that presents the perfect opportunity to embarrass my wife with a cheesy photo.
Eat

The best pizza in Austin – and maybe even in Texas – can be found at Home Slice on South Congress Avenue. Here's an insider tip: Across from Home Slice is Guero's Taco Bar, where they play live music Thursday through Sunday in their outdoor garden. Typically, we'll head to Guero's, grab a table and order a few beers, then call Home Slice and order our pizza for takeout. Guero's is very cool and very Austin, and as such they'll let you bring your pizza into the garden as long as you buy a few drinks and take care of the musicians. Don't be surprised if the rest of the crowd looks at you with envy and awe!
Shop

Assuming you don't get too comfortable at Guero's, head over to 2nd Street, where you'll find outdoor cafés, coffee shops and a huge statue of Willie Nelson at the Austin City Limits Moody Theater (another great embarrassing photo opp!). While there, I usually also pop into Austin Rocks to see if they have any new T-shirts.
Eat (Again)

By now, you may understand why I always start my day with a run! The best place to sate a sweet tooth is the Hey Cupcake Airstream trailer on South Congress. It will likely have a long line, but it always moves fast (and so do the cupcakes). My personal favourite flavour is the Michael Jackson, which combines chocolate cake with cream cheese frosting.