Destination
Recreational Activities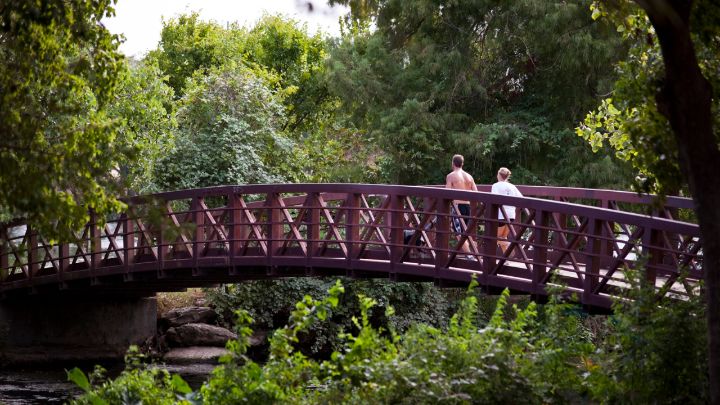 Within easy reach of your Four Seasons Hotel guest room or luxury suite are many options for sports and other recreational activities that make the most of Austin's beautiful outdoors. For further ideas or details, our Concierge is always pleased to advise and assist you.
Lady Bird Lake Hike & Bike Trail

Great for a leisurely stroll, invigorating jog or scenic bike ride, the Lady Bird Lake Hike & Bike Trail bisects downtown as it winds alongside Austin's beloved Lady Bird Lake. Usually packed with locals, visitors and celebrities alike, the trail provides more than 10 miles of hiking and biking.
Social Golf

For those who consider golf more social than sport, TopGolf is the place to go. Opened in 2013, TopGolf bills itself as a "sports entertainment complex," a description it handily lives up to with its expansive patio for live outdoor music; full-service restaurant, bar and lounge areas; and massive 215-yard outdoor driving range complete with dartboard-like targets.
Kayaking and Stand-up Paddleboarding

Soak up Austin's 300 days of sunshine on Lady Bird Lake, home to some of the best kayaking and stand-up paddleboarding in town. Calm waters and numerous picturesque inlets provide hours of lake-filled fun in the heart of downtown Austin. Kayak and stand-up paddleboard rentals, as well as a variety of instructional classes and tours, are available at the Waller Creek Boathouse, located directly behind the Hotel.
Umlauf Sculpture Garden

Art and nature meet in serene harmony in this xeriscape garden featuring dozens of bronze and stone pieces given to the city of Austin by noted 20th century American sculptor Charles Umlauf. In addition to the sculptures, visitors will enjoy the waterfalls, streams and trees that make this spot a natural oasis near downtown.
Austin Nature and Science Center

Located inside Austin's famed Zilker Park, the Austin Nature and Science Center gives kids the opportunity to see live wildlife, dig for fossils at the Dino Pit and discover hidden gems of the landscape at the Naturalist Workshop. Multiple programs are available for adults, as well, such as rock climbing, caving and night canoeing.