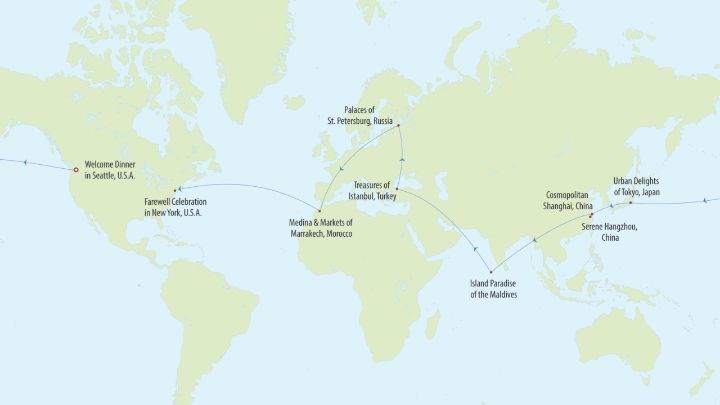 Urban Intrigue & An Island Oasis by Private Jet - 2013
Go beyond the main itinerary with your choice of personalized excursions in each destination. Whether you wish to take a cooking class, visit a local school, or explore off the beaten path, simply ask and your itinerary will be custom-tailored especially for you. Whatever the reason, whatever the request, we are committed to ensuring your experience is extraordinary.
SEATTLE, U.S.A.

September 14. Depart your hometown independently on a commercial flight to Seattle. Meet your fellow travelers and the expedition staff during a welcome dinner at the hotel.

September 15. Board our private jet and fly across the Pacific, crossing the International Date Line. We lose a day en route and arrive in Japan the following afternoon.




Accommodations: With stunning downtown views of Elliott Bay and Puget Sound, Four Seasons Hotel Seattle is just steps from the Seattle Art Museum and Pike Place Market. Sleek, modern interiors of wood and stone reflect the natural beauty of the U.S. Northwest. Dining highlights local ingredients and the region's finest wines.


TOKYO, JAPAN

September 16, 17 & 18. Land in bustling Tokyo, where the ancient heritage of Japan coexists with a culture of ultramodern innovation and design. Enjoy your choice of many activities: Explore Asakusa and the Sensoji Temple, the oldest in Tokyo; visit the world's largest fish market with hundreds of unique species; see futuristic designs at the Panasonic Living Showroom; or learn to make sushi with a master chef.


Accommodations: On the doorstep of the Imperial Palace and the Ginza shopping district, the hotel's location couldn't be better. Hidden high in a landmark tower, Four Seasons Hotel Tokyo at Marunouchi is the world's most intimate Four Seasons hotel. Cool and high-tech, the guest rooms and suites are among Tokyo's largest accommodations—providing a calm, boutique-style retreat in this fast-moving city. Dining at ekki BAR & GRILL features the freshest seafood with dramatic views.

HANGZHOU & WEST LAKE, CHINA

September 19 & 20. Fly to Shanghai and take a two-hour drive to Hangzhou, the ancient city that epitomizes traditional Chinese beauty. Enjoy a cruise on serene West Lake—edged with pagodas, bridges and temples—and savor a banquet at the Hu Mansion. At the Mei Jia Wu Tea Plantation, home of the area's famed Dragon Well tea, observe how tea is dried and processed, and sample several varieties.

Accommodations: Just opened in 2012, Four Seasons Hotel Pudong, Shanghai is a glamorous enclave perched within a skyscraper in the booming Pudong district. Chic interiors are inspired by Shanghai's golden age in the 1920s and 30s Art Deco style. For dining, enjoy Western-style or classic Shanghainese fare, while mingling with Pudong's high-powered executives and urban professionals.

SHANGHAI, CHINA

September 21 & 22. Speed from Hangzhou to Shanghai in just 45 minutes via bullet train, and stay in dynamic Pudong, the city's booming financial hub filled with distinctive skyscrapers that create one of the world's most photographed and ever-changing skylines. Visit the beautiful Suzhou-style Yu Yuan Gardens and the bustling bazaar nearby; the narrow winding streets of Old Town; and the Bund, the stately European-style waterfront.

Accommodations: Feel fully immersed in the beauty and poetry of Chinese tradition at Four Seasons Hotel Hangzhou at West Lake, just opened in 2010. Small, quiet, and exclusive, this resort-style property is an intimate lakeside village, woven with lily ponds, bamboo groves and gardens. Discover imperial relaxation rituals in the dramatically beautiful spa, then dine at Jin Sha to taste stellar Cantonese and classical local cuisine.

THE MALDIVES

September 23, 24, 25 & 26. Fly to the Maldives, a sprawling archipelago of pristine tropical beauty, where coral islands, verdant gardens, turquoise lagoons, and a friendly Maldivian culture await you. Arrive on the island of Malé and take a short boat ride to the tiny island of Kuda Huraa. We've made our mid-journey stay extra-long so you can take full advantage of this tranquil, tropical retreat. Swim or snorkel among delicate corals and the colorful creatures that inhabit them.
Accommodations: Choose from a wide range of activities to make the most of your time at Four Seasons Resort Maldives at Kuda Huraa, a Maldivian island village floating in a world of turquoise. Your luxurious thatched bungalow provides an unobstructed view of the waves. For soothing skin care and massage treatments, sail to the spa, secluded on its own tiny isle. Drift lazily in the infinity-edge pool, take lessons at the surf school, or learn about the science of the sea at the Marine Discovery Centre. Three restaurants and two lounges offer Indian, Italian and Asian fare.

ISTANBUL, TURKEY

September 27 & 28. Fly by private jet to Istanbul—the last stop in Europe and the first stop in Asia, a fusion of age-old glories and a sophisticated, contemporary culture. Visit the colossal Hagia Sophia, a sixth-century Byzantine masterpiece whose dome has influenced architecture around the world for 1,500 years. Stroll the Grand Bazaar, brimming with jewelry, pottery, carpets, and spices.

Accommodations: Legendary among luxury hotels, Four Seasons Hotel Istanbul at Sultanahmet was created from a century-old neoclassic Turkish prison in the city's oldest district. With ochre-tinted stonework, soaring archways and Ottoman antiques, every inch of the hotel has been transformed into a stunnning showcase of the region's rich Anatolian heritage. Enjoy fine international cuisine at Seasons Restaurant, and recharge in the spa or health club.

ST PETERSBURG, RUSSIA

September 29, 30 & October 1. Founded in 1703 by Peter the Great—who wanted his city to surpass the grandeur of its Western counterparts—St. Petersburg offers a treasure-trove of architectural and cultural riches. Visit the lavishly restored Catherine's Palace and the Amber Room, and examine the superb art collection—including the famous Golden Treasury—at the Hermitage.




Accommodations: Brand new in late 2012, Four Seasons Hotel Lion Palace St. Petersburg welcomes you to a reinvented 19th-century palace with an atmosphere that blends Imperial Russian history with cutting-edge fashion. The location is right beside St. Isaac's Cathedral—just two blocks from the Hermitage Museum. Showpiece Asian and Italian restaurants give you a chance to socialize with the local elite, while a glass- topped spa helps you relax and restore.

Accommodations: Just outside the old city walls, Four Seasons Resort Marrakech is an astonishingly large garden oasis, combining Moroccan tradition and contemporary chic. Guest rooms offer views of the Atlas Mountains and the sun-splashed city. For dining, choose from five stylish restaurants and lounges. For relaxation, there are two beautiful swimming pools and an expansive spa nestled in Moorish gardens.

NEW YORK, U.S.A.

October 4. This afternoon the private jet flies to New York, where we share a gala dinner, making our farewells as we celebrate the end of an extraordinary journey.

October 5 - Homeward. Following breakfast, transfer to the airport to connect with your regularly scheduled commercial flight home.


Accommodations: An iconic tower designed by architect I.M. Pei, Four Seasons Hotel New York offers a quiet, midtown sanctuary—just five minutes from Central Park and Fifth Avenue shopping. Be sure to stop for a drink in the magnificent lobby, a modern classic, highlighted with art deco lamps and a backlit onyx ceiling.
NOTE: The 2013 Tour has sold out. Please check back here for live updates from the tour or click here to make a reservation for the 2014 tours.
LEARN WHILE YOU EXPLORE

A world-class team of experts will join us to illuminate the history of empires, the varied cultures we encounter, and the outstanding examples of art and architecture we visit. They will use a special in-flight multimedia system for informative lectures on the jet, and join travelers in discussions during meals and special events on land.