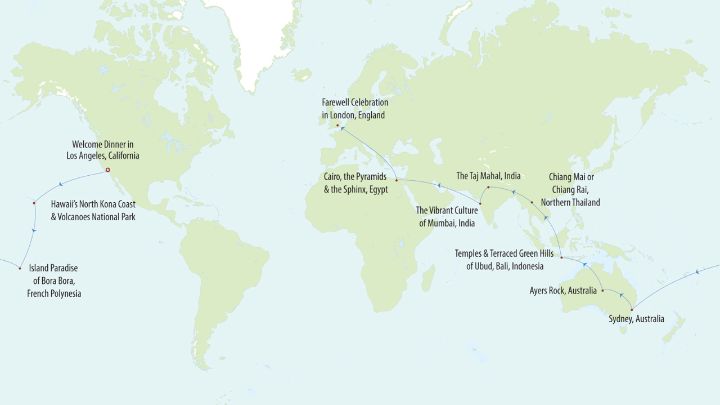 Around the World by Private Jet - October 2012
Go beyond the main itinerary with your choice of personalized excursions in each destination. Whether you wish to take a cooking class, visit a local school, or explore off the beaten path, simply ask and your itinerary will be custom-tailored especially for you. Whatever the reason, whatever the request, we are committed to ensuring your experience is extraordinary.
LOS ANGELES, CALIFORNIA

October 29. Depart your home town independently on a commercial flight to Los Angeles. Meet your fellow travelers and expedition staff during a welcome dinner at a Four Seasons landmark in Beverly Hills. Read more about the experiences in
Los Angeles from the tour.

Accommodations: A Hollywood icon for decades, Four Seasons Hotel Los Angeles at Beverly Hills feels fresh and new after recent renovations. Known for its inviting Southern California style and high-energy buzz, the Hotel offers outdoor dining, a glamorous swimming pool, and sun-filled guest rooms with balconies.

KONA, HAWAII

October 30 & 31. Board our private jet and fly to the Kona-Kohala Coast on the "Big Island"—largest of all the Hawaiian Islands. From our beachside Resort, enjoy your choice of activities: explore Hawai'i Volcanoes National Park, home to two active volcanoes, Kilauea and Mauna Loa; or take a thrilling helicopter tour over the dramatic mix of fine white sand, dazzling turquoise ocean, and black-lava landscapes. Read more about the experiences in Hawaii from the tour.

Accommodations: Experience Hawaii at its most authentic and most beautiful at Four Seasons Resort Hualalai at Historic Ka'upulehu. This beachfront paradise offers a choice of every pleasure right on site—from the tropical garden spa to designer fashion boutiques. Laze by your choice of six swimming pools or stroll the white sand beach. For golfers, the world-famous Jack Nicklaus signature course is a destination in itself.

BORA BORA, FRENCH POLYNESIA

November 1, 2 & 3. Fly to Tahiti on our private jet, then take a local flight to the island paradise of Bora Bora, home to impossibly clear blue waters, lush hillsides, and breathtaking waterfalls. Snorkel among pristine coral gardens and a rainbow-variety of sea life; and take a boat to the southern tip of the island, past emerald-green Mount Otemanu and Mount Pahia, to a shallow sandbank where you can witness the dazzling phenomenon of rays swimming and feeding. View the journey to Bora Bora by air and by sea.

Accommodations: Set on a private motu (a small islet), Four Seasons Resort Bora Bora welcomes you to a village-like setting inspired by Polynesian architecture. Relax in your own over-water bungalow, perched on stilts above the turquoise lagoon. Choose to spirit yourself away to the spa and be lulled by sounds of the surf. In every direction there's an awe-inspiring view of multi-hued waves, dazzling white beaches, and soaring mountain peaks.

CROSS THE INTERNATIONAL DATE LINE

November 4. From Bora Bora, we continue our voyage across the Pacific, crossing the International Date Line. We lose a day en route and arrive in Australia the following afternoon.

SYDNEY, AUSTRALIA

November 5 & 6. Discover the delights of stylish, sophisticated Sydney. Take a walking tour of the historic Rocks district, viewing the iconic Opera House, the Royal Botanical Gardens, the Customs House, and the Sydney Harbour Bridge. Or venture into the countryside to hike in the enchanting Blue Mountains National Park, filled with fragrant eucalyptus trees, scenic gorges, and thundering waterfalls. Read more about the experiences in Sydney from the tour.

Accommodations: With a prime location in the historic Rocks district, Four Seasons Hotel Sydney is a 34-story tower presenting panoramic views of the Harbour Bridge and Opera House. Vibrant and elegant, the Hotel offers dazzling options for relaxation. Savor stellar cuisine and boutique Australian wines. Laze by the city's largest hotel pool or revitalize in the award-winning spa.

AYERS ROCK

November 7. Fly deep into the heart of Australia and explore Ayers Rock, one of the world's great landmarks. The mammoth sandstone monolith has long been a sacred place for Australia's indigenous peoples, who call it Uluru. Walk the base of the rock with an Aboriginal guide who will share his insights into the plants, wildlife, geology, and mythology of the area.

BALI, INDONESIA

November 7 (continued), 8 & 9. From Ayers Rock, fly via our private jet to Bali— one of Indonesia's more than 17,000 islands. Choose between two Four Seasons Resorts: enjoy the pristine beaches at Jimbaran Bay, or venture inland to the jungle highlands at Sayan. Whichever your choice, you'll be immersed in the beauty of Bali's landscapes and refreshingly spiritual perspective. From either location, you can explore the village of Ubud, the island's cultural and artistic capital. Read more about the experiences in Bali from the tour.

Accommodations Option 1: On the island's southern tip, Four Seasons Resort Bali at Jimbaran Bay connects you to the ocean's invigorating energy. Spread out in your open-air, thatched-roof villa, complete with garden plunge pool.
In the world-renowned cooking school here, learn to create Balinese specialties. Or choose to feel stress dissolve with purely natural treatments in the spa.




Accommodations Option 2: Hidden in the lush central highlands, Four Seasons Resort Bali at Sayan provides a serene jungle retreat. Unwind in spacious guest rooms nestled beside peaceful rice fields, water gardens, and the sacred Ayung River. Dine in your choice of three restaurants in lovely settings celebrating subtle Asian flavors. Or choose to regain your sense of well-being with spa therapies that draw from the wisdoms of the East.

CHIANG MAI & NORTHERN THAILAND

November 10, 11 & 12. Thailand is a country of dazzling diversity. It's a culture defined by graceful architecture, vibrantly flavorful cuisine, and a warmly welcoming spirit. In this magical land, you have two options. Experience three nights at Chiang Mai with its lush landscape of mist-covered mountains and terraced hillsides. Or consider upgrading to the luxurious Tented Camp at Chiang Rai for two nights of jungle adventure, followed by one night in Chiang Mai. Read more about the experiences in Thailand from the tour.

Accommodations: In the idyllic Mae Rim Valley, wrapped around its own rice paddy, Four Seasons Resort Chiang Mai is a lush jungle garden with architecture inspired by ancient Thai tradition. Visit the professional cooking school, where you can learn the secrets of Thai cuisine, or choose to experience the award-winning spa. Just 20 minutes away, you can discover the old city of Chiang Mai, still enclosed by ancient walls and a moat and filled with peak-roofed temples; and tour local artist workshops offering exquisite paintings, silk weavings, pottery, and carvings.




Accommodations Upgrade: Journey by riverboat to Four Seasons Tented Camp Golden Triangle, set amidst exotic bamboo jungles at Chiang Rai. Just 15 luxurious tented accommodations recall the romantic spirit of 19th century explorers. Enjoy hours of elephant trekking and interaction in this unforgettable experience for active travelers. Then visit local hill tribes for a fascinating glimpse into their traditional lifestyle and rich artistic culture. (A limited number of upgrades at the Tented Camp are available at an additional cost.)

THE TAJ MAHAL & MUMBAI, INDIA

November 13, 14 & 15. Board our private jet bound for Agra, capital of India's Mughal empire in the 16th and 17th centuries. Explore one of the world's greatest architectural wonders, the Taj Mahal. We then fly to Mumbai (formerly Bombay), India's most important cultural and industrial center. Visit the Mani Bhawan, Gandhi's former residence and now the Gandhi Memorial Museum. Read more about the experiences in Mumbai from the tour.

Accommodations: Within a sleek glass tower in the emerging Worli district, Four Seasons Hotel Mumbai represents the confident, modern future of India. Spacious guest rooms blend high-tech details with accents of tradition and Arabian Sea views. Enjoy cocktails at India's highest rooftop bar. Lounge by the garden pool or choose to indulge in the spa, featuring modern Ayurvedic-inspired therapies in a setting of contemporary sophistication.

CAIRO, THE PYRAMIDS & THE SPHINX, EGYPT

November 16 & 17. Fly by private jet to Cairo, known as "The City of a Thousand Minarets" for its distinctive skyline of Islamic architecture. Settle into Nile-view Four Seasons comfort, then take a private tour of the world-renowned Egyptian Museum to discover its treasure trove of ancient art and relics, including the famous gold mask of King Tutankhamun.

Accommodations: Rising above the legendary Corniche on the Nile's eastern bank, Four Seasons Hotel Cairo at Nile Plaza is a tranquil haven in the bustling city. Extra-large guest rooms command views of the river and the historic Citadel. Your stay is enhanced by four swimming pools, Cairo's largest spa and wellness center, and ten dining and entertainment options—providing a fully self-contained paradise.

Accommodations: Fresh, bright, and inspired by Hyde Park greenery, Four Seasons Hotel London at Park Lane boasts a "classical contemporary" ambience, balancing eclectic British sophistication and sleek modern style. Above it all, a glass-walled rooftop spa blends all-natural pampering with 360-degree views.

CONCIERGE ASSISTANCE
From the moment you arrive to the time you depart, you will receive world-class, highly personalized service from the Four Seasons concierge team—both on board the jet and on the ground. Throughout the journey, whether in the hotels, during flights, or on land during excursions, the team is committed to ensuring your experience is extraordinary.