Meetings & Events
Conference Planning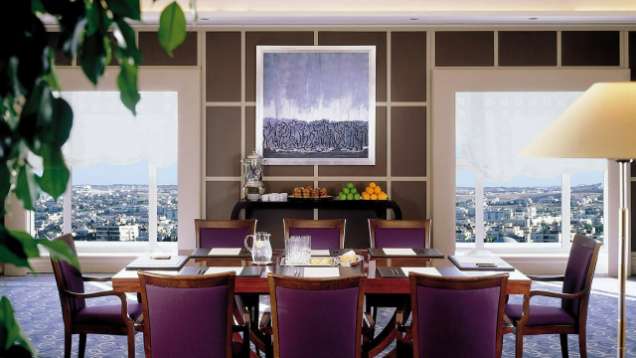 Technical assistance
The Hotel continually updates its audiovisual presentation equipment. All equipment is supported by technicians on site. Special arrangements can be made to fulfil any request, and the standard inventory includes:
Lecterns

Overhead projectors

Data projectors

LCD colour display panels

Slide projectors

Equipment necessary for rear

projection and dissolve

programming
Video cameras

Recorders

Players and projectors

Screens, flipcharts, easels and

marker boards
Also available:
Videoconferencing

Roboscan intelligent lighting

system
Special effects and plasma

screens and

CCTV linkup to

pre-function areas
Wired or wireless Internet

access in meeting rooms
Music and entertainment
Our team of conference service managers can arrange music and entertainment to complement any part of your function or event.
Receiving and maintenance
Full-service double bay receiving dock. 24-hour access available through security. All materials are received from our receiving dock area and then transported to the designated meeting room.
Welcome amenities and VIP gifts
Illustrated book on Jordan by

Zuhrab, Jordan's premier

photographer
Spouse programs
On-site:
Brunch/lunch around the pool

Full- or half-day spa experience

Afternoon tea in the Foyer Lounge

Asian and Italian cooking lessons

with the Hotel's Executive Chef
Lecture on the rich archaeological

heritage of Jordan


Off-site:
Half-day
City tour

Art galleries

Cultural events

Craft shopping
Full day:
Tours of various tourist sites

(Jerash, Petra, Dead Sea)
City tour (downtown, Citadel,

Roman theatre) with lunch
Always Complimentary
Projection screens

Flipcharts, upon request

Notepads, pens, markers, candies and bottles or pitchers of water

Podium and microphone

Outdoor heaters

Stage and dance floor for events



Discover flexible spaces that adapt perfectly to your meeting goals, along with technology that accommodates the most demanding presentation and communication requirements. Experienced Four Seasons support is on site to promptly respond to every need.
Quick Reference
Time zone
GMT +2 hours during winter time
GMT +3 hours during summer time
Eastern Europe Time
Language(s) spoken
Arabic is the official language spoken locally. English is widely spoken.
Electrical system
Local voltage is 220 to 240 volts AC. Adapters available; please request through the Concierge.

Shopping hours
Most Jordanians work five days a week, with Friday and Saturday off, but business and shopping hours are flexible. Some stores open from 9:30 am to 6:00 pm, but close for a few hours in mid-afternoon. Other stores may remain open all day, from 8:00 am to 10:00 pm.
Working hours
Government offices are open from 8:30 am to 3:00 pm. All businesses and most shops, other than those in the souqs, are closed on Fridays. During the Holy Month of Ramadan, working hours are more flexible and generally shorter.
Time and distance to city centre
20 minutes/22 kilometres/13.7 miles

Time and distance to shopping
Sweifiyah shopping area is a 5 minute drive (5 kilometres/3 miles)

Taj Shopping Mall is a 7 minute drive (8 kilometres/5 miles)

Zara Shopping Centre is a 12 minute drive (10 kilometres/6 miles)

City Shopping Mall is a 12 minute drive (10 kilometres/6 miles)
Time and distance to financial district
Shmeisani financial district is a 10 minute drive (7 kilometres/4.4 miles); Sweifiyah financial district is a 5 minute drive (5 kilometres/3 miles)