Function Rooms
Four Seasons I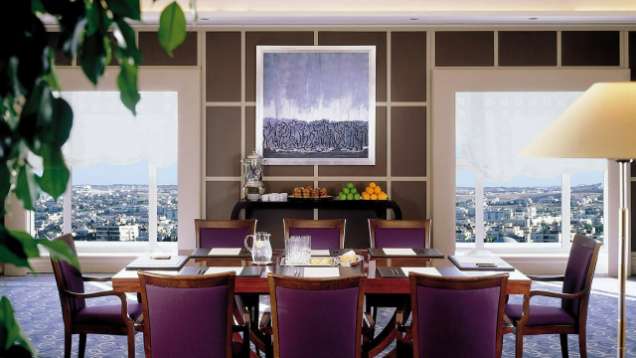 Conveniently located on the fifth floor, this luxuriously appointed boardroom offers commanding views of the city. This room offers private access for in-house guests and function attendees, and its size is ideal for small meetings. It features a motorized, built-in screen for presentations, and is also equipped with high-speed Internet access.
Setting
Intimately sized
Stunning city views
Abundance of natural light
Central Location
Located on the fifth floor
Entry from all levels
Offers private access
High-Tech Services
High-speed Internet access
Motorized, built-in screen
State-of-the-art AV equipment
Seating
Classroom
Hollow Square
U-shape
Theatre
Reception
Banquet rounds
Conference/Boardroom

25
20
18
45
55
40
18

Room Features
Wired or wireless, high-speed email and Internet access

Location
FIFTH FLOOR
Size
Area
Dimensions
Height

76 m2 (818 sq.ft.)
9.2 x 8.2 m (30.3 x 26.9 ft.)
3.4 m (11.2 ft.)

Note: Actual clearance height is 2.4 metres (7.9 feet).