President, Global Product and Chief Operating Officer
Christopher W. Norton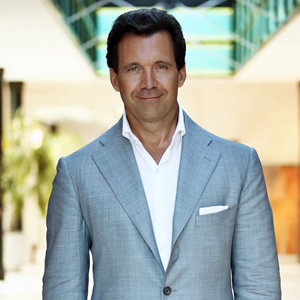 "We are dream makers, conjuring at once contentment and excitement. When a guest steps into one of our hotels, there's an immediate realization that what they are about to experience is going to be fantastic."
As a teen, Chris Norton was fascinated by a friend's family-run hotel and restaurant business located on the outskirts of Zurich. He recalls, "Working at the hotel was an obligation for my friend, but for me it was a window into a new and exciting world." Not long after that first experience, he became an apprentice at the famed Baur au Lac in Zurich, where he rose at 4:00 am each day to prepare the mise en place for breakfast. For Chris, the smell of coffee and toast signals the fresh start of a new day.
Today, Chris oversees global hotel operations, and drives the look and feel of Four Seasons with a similar sense of optimism. "Our aim is nothing short of being recognised as the very best in every destination where we operate, whether it's the accommodations, a restaurant or bar, a spa or gym, or hosting great events."
To achieve this vision, Chris brings together company talent along with top international designers, architects, and the best operators in the business in cross-functional teams that can get the job done, and done well. His talent lies in his leadership ability, which has consistently produced outstanding product, people and profit results, and that he never forgets that people who share a passion for excellence in a results-centric organisation make things happen.
Now conducting a larger group of players on a rapidly expanding stage, Chris remains confident that the company's legacy of creativity and innovation will continue to exceed guest expectations. Underlying it all? The personalised service for which the brand is renowned, and the "casual elegance" that characterises both the style and comfort guests will enjoy anywhere in the world at Four Seasons. "My goal is to promote an entrepreneurial spirit, and the special qualities of each of our properties. We never take what we have achieved in the past for granted, even as we blast into the future."
Career Highlights

At Four Seasons Hotels and Resorts: Since joining Four Seasons as an Executive Assistant Manager in 1989, Chris has circled the globe from Montreal and Washington to Berlin, Bali, Singapore, Paris, Geneva and now the company's corporate office in Toronto. His first General Manager assignment was in Bali, where during his tenure he also opened a second Four Seasons hotel. Chris was promoted to Regional Vice President, a title he also later held at Four Seasons Hotel Singapore and the legendary Four Seasons Hotel George V, Paris, where he was stationed for six years. For ten years, Chris chaired the company's Global Spa Task Force, establishing a first structure resulting in Four Seasons being recognised as the #1 spa operator in the world. In 2012 he was promoted to President Hotel Operations for Europe, the Middle East and Africa; to President Global Product and Operations in 2014; and to his current role in 2016.

Previously: Chris' early career included stints at the infamous Watergate Hotel in Washington, DC, Boca Raton Resort & Club in Florida, and the Ritz-Carlton New York.
Education: After his apprenticeship at Baur au Lac, Chris graduated from the prestigious Ecole hôtelière de Lausanne in Switzerland.
Personal Insights

Proud career moments: Readers of Condé Nast Traveler and Travel + Leisure ranking the Bali resorts #1 in the world several times over; Four Seasons Hotel Singapore being named by a Hewitt study as Best Employer in Asia; among many other accolades, Four Seasons Hotel George V, Paris, being ranked by The Gallivanter's Guide as the #1 hotel in the world several times; Four Seasons being named a "Best Spa Brand" by SpaFinder for the past several years running.
Most memorable vacation with Brigitte, his wife of more than three decades, and his three children, Christina, Adrien and Charles: The Maldives. Chris reflects, "To venture off a tiny white sandbank under an endless blue sky into the fish-filled waters of the Indian Ocean is to find oneself in another world."
Nickname bestowed by his kids: "The Boss Man."
How his employees describe him: Leads by example and expects the best; always composed no matter what's going on around him; great sense of humour.
Advice to young people starting out in the business: "Keep an open mind and take it all in – even the most mundane tasks become part of your memory bank and help form who you will be as a hotelier and restaurateur in the future."
Hygiène de vie: Chris subscribes to the French philosophy of a balanced life, believing that if one lives a healthy lifestyle, one can excel both professionally and personally.