President Hotel Operations - Americas
Chris Hart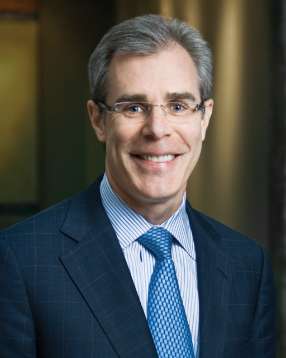 "This is an exciting time for Four Seasons. While we are well established in North America, there are still so many opportunities; and in Central and South America, our story is just beginning."

After close to seven years supporting the operations and growth of Four Seasons in Asia, including the emerging markets in China and India that are the obsession of most global companies these days, one might think that in returning to his home country, Chris Hart is ready to slow down and take it easy. Not by a long shot, he says: "It's true that Four Seasons has been in a solid position in the US and Canada for decades, but that doesn't mean there isn't still a lot more we can do as we continue to develop our product and expand into new markets."
Indeed, it's the prospect of the new that really fires his enthusiasm. "We have several wonderful hotels in South America now, but in many ways the entire continent is uncharted territory for us," Chris says, also mentioning the untapped potential for Four Seasons in Central America and the Caribbean. "We are very focused on developing our brand in these important destinations and becoming the first choice for Latin Americans when they travel the world."
At the top of his agenda is working closely with ownership partners and hotel management teams on creating new hotels and resorts, many of which also include residences. Another key focus is upon ensuring existing hotels and resorts are best in class and are continually evolving in their local markets to meet the needs of today's travellers.
"In addition to the many new destinations we are considering, we have second locations planned in major cities such as Boston and New York; and there will be other opportunities such as Toronto, where we introduced a new Four Seasons to the market," notes Chris.
Of his approach to successful working relationships, Chris says that doing business across so many different cultures in Asia was invaluable, providing him with a truly global outlook. "Asia reinforced how important relationships and trust are with our employees, business partners, and of course our guests. This is the foundation and strength of Four Seasons. It's why people can rely on us to excel wherever we operate – because we have the most committed group of employees seeking to do their very best for our guests."
Career Highlights

At Four Seasons Hotels and Resorts: Joined in 1984 as Front Office Manager at the former Four Seasons in Edmonton, Alberta; first General Manager positions were in Santa Barbara and Palm Beach; promoted to Regional Vice President and General Manager in Scottsdale and then Toronto; moved to Singapore as Senior Vice President Operations Asia Pacific in 2008 and then was promoted to President in the same region in 2011; assumed his current role in 2014.
Previously: First hotel job was as a summer room service waiter at the Waldorf Hotel in London; Chris then studied hotel management and was a management trainee at Claridges and the Berkeley hotel before moving to Canada and working for CN/CP Hotels (now Fairmont).
Education: Westminster Hotel School, London, England.
Personal Insights

Hospitality is in his blood: The legendary Windsor Hotel in Ottawa, Canada was owned and operated by the Hart family for decades, but it was his pharmaceutical executive father who taught Chris the true value of treating others with respect, and being sensitive to others' points of view – very much in line with the Golden Rule that is the foundation of Four Seasons.
A match made in the mountains: Chris met his wife Christine – also known as Chris – more than 30 years ago when he moved to work at Jasper Park Lodge in Canada's Rocky Mountains.
Home is where your family comes together: Although he grew up in England and lived in the US for 18 years, Chris and his family are Canadian, and they continued to maintain the family home in Toronto for nearly seven years while he was posted in Singapore and his children went to university in Montreal. His son now lives in New York, and his daughter is in London, England.
When he's not at the office or on the road: Chris loves to run and cycle to keep fit, and while liking the city lights, "whenever possible, we go back to the mountains – we love the outdoors, hiking and skiing."